Deputy MD Of The Agricultural Development Bank May Not Contest The NPP Primaries In Tolon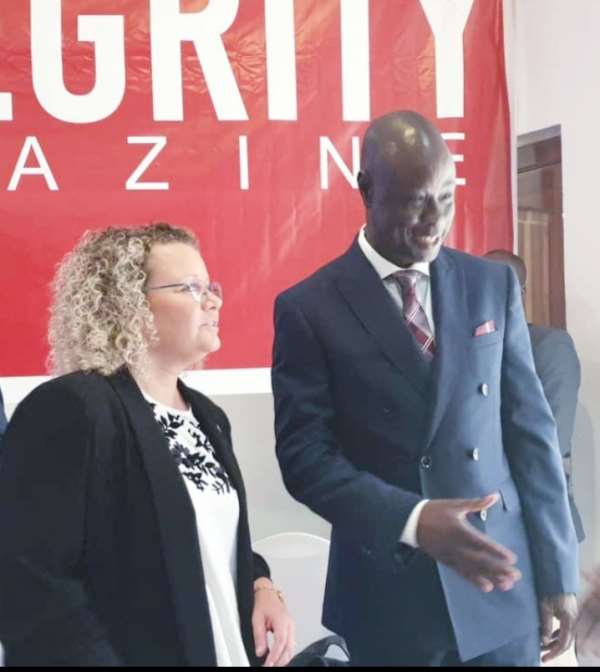 Alhaji Alhassan Yakubu Tali with the Ambassador of Isreal to Ghana
The *Voiceless Media* can report that Alhaji Alhassan Yakubu Tali also known as Nawaana might not contest the NPP primaries in the Tolon Constituency when the NPP opens nominations for primaries in constituencies with sitting NPP MPs.
Alhaji Tali who is also the Deputy Managing Director of the ADB, was rumoured to be nursing the ambition to contest the Tolon primaries of the NPP but the impression *The Voiceless Media* picked after an exclusive interview with him is that he may not be contesting the primaries but will instead work towards consolidating the gains of the NPP in the Tolon Constituency come election 2020.
It must be stated that Alhaji Tali contested the NPP primaries in the Tolon Constituency on two occasions and was beaten by 20 votes in the last Parliamentary Primaries of the NPP in 2015 by Alhaji Wahabu Suhuyin, the current MP of the area.
The astute Banker, is a formidable pillar in the Tolon Constituency and his role in the next election activities in the area will impact positively on the fortunes of the NPP.
There are currently two other persons who have indicated their intentions to contest the Tolon primaries aside the incumbent MP Hon Wahabu Suhuyini.
The two are Alhaji Habib Iddrisu of the Ghana Freezones Authority and Dr Alhassan Sayibu Anamzoya a senior lecturer at the University of Ghana.
There are indications that other persons will join the race but the candidate who will win the Tolon primaries among other factors have to get the support of Alhaji Alhassan Yakubu Tali.
The *Voiceless Media* is monitoring the Tolon Constituency and will bring further updates to our readers.
*Source: The Voiceless Media*