PUSAG Presidential Candidate Awards BECE Graduates With Ghc1000, Other Items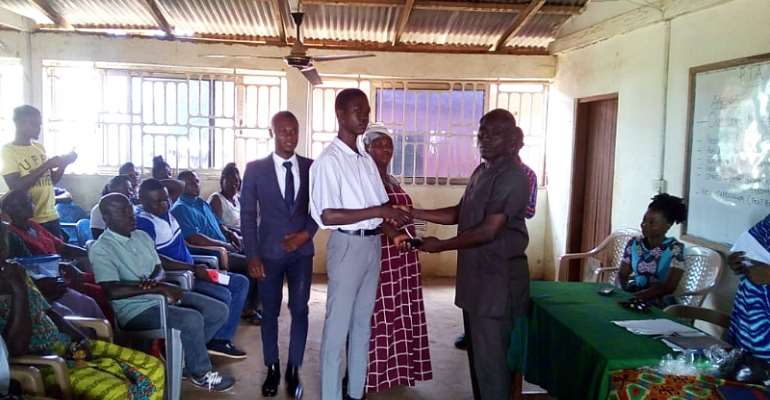 A Presidential Candidate in the upcoming national delegates election of the Private Universities Students Association of Ghana (PUSAG) has donated an amount of Ghc1000 to some selected 2019 BECE graduates of the Apagya D/A JHS for excelling in their exam.
Mr. Haruna Musah Kalamulai donated the amount in fulfillment of a promise he made prior to the writing of the 2019 BECE during a face to face inspirational encounter dubbed "Success Calls Go For It" organized by Reindolf Amankwa, an aspiring assemblyman for the Apagya-Akrofrom in the Afigya Kwabre South District, Ashanti region.
Speaking on the topic "Overcoming Anxiety In Examination", Mr. Kalamulai challenged the students that he would award any student who passes the exam with a single aggregate.
Joseph Anane, a student of the Apagya D/A JHS passed the challenge with an aggregate 08 while also gaining admission to study General Science in Opoku Ware SHS. Other students also attempted the challenge with grades ranging from 10 - 13.
In all, five categories of students were awarded with a cash prize and/or plaque of honours in celebration of their hard work and exceptional academic qualities. These categories are; Best Male and Female Students of Apagya D/A JHS and Akrofrom D/A JHS respectively, and one brilliant but needy student who had an aggregate 11 pass.
Mr. Kalamulai's kind gesture has since been greeted with much gratitude from the PTA, Religious and Traditional Leaders of the Apagya and Akrofrom communities.
Mr. Haruna Musah Kalamulai is an immediate past SRC President of the Presbyterian University College Ghana, Agogo campus and also an immediate past Unified SRC President of all four campuses of Presbyterian University College, Ghana.
He holds a degree in BSc Physician Assistant and an Executive Certificate in Leadership & Innovation from PUCG Abetifi campus. He is also a former Assemblyman aspirant in the Terago electoral area in Pusiga, Upper East region and currently a PUSAG Presidential Candidate.
Source: Reindolf Amankwa (Aspiring Assemblyman, Apagya-Akrofrom Electoral Area A/R)
0544728631