DCE Holds Community Interactions On Government Policies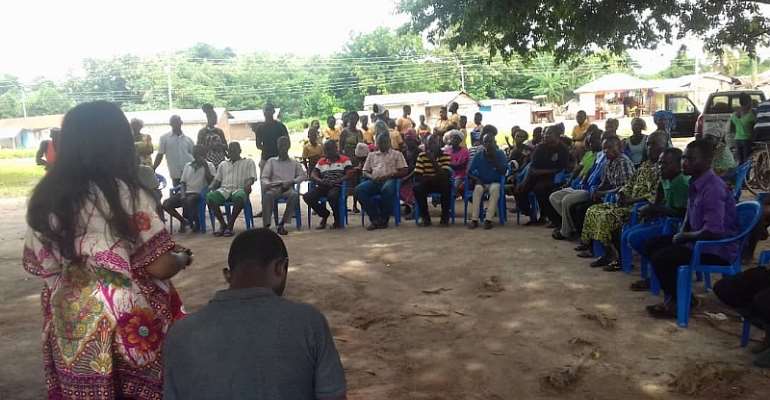 Madam Charity Akua Foriwaa Dwommoh, the District Chief Executive (DCE) for Tain in the Bono region has paid working visit to Hiamankyene and Degedege communities in the district to explain government policies and programmes to the people in the local communities.
The visit was to also create a platform for the DCE and other heads of Department who accompanied her to interact with the people to explain activities and initiatives being implemented by the Assembly to improve the socio-economic conditions of the people.
Speaking separately at the various communities, the DCE disclosed that the Assembly has secured a grant from the European Union (EU) for developing aquaculture, poultry keeping, and gari processing aim at poverty alleviation. The grant which is a three-year livelihood empowerment project is expected to directly benefit about 1000 rural fork, especially youth and women across the three modules of the initiative.
According to the DCE, the project is to help diversify the rural economy which is mainly driven by crop farming, especially cashew production.
Madam Charity Dwommoh added that assessing and prioritizing the needs of the people in the various local communities in order to meet their needs and expectations promote inclusiveness in local governance and participation.
She also called for effective collaboration between all stakeholders in order to promote acceptance and ownership of the project since there are a lot of such poverty alleviation driven projects which will soon be available to the indigents.
The community members expressed their gratitude to the DCE for the time visit to brief them about the project and expressed readiness to take advantage of the project help improve their lives economically.