The Microfinance and Small Loans Centre (MASLOC) has disbursed loans in excess of GH¢100 million to grow and expand businesses since the assumption of office by President Akufo-Addo.
Chief Executive Officer of MASLOC, Stephen Amoah, who disclosed this, said 70 percent of the loans were given out to women as part of government's deliberate policy for women empowerment.
Speaking at the disbursement of loans to 40 women groups in Kumasi, the MASLOC boss said government had done much to resource the poor and improved livelihoods after transforming the institution that was going through difficult times.
In all, a total of 1,000 women from the Kumasi Central Market and other markets in the city received GH¢1,000 each as part of the second round of disbursement in the area. They are expected to pay within six months at 1 percent interest monthly.
Mr Amoah disclosed that MASLOC is one of the institutions that President Nana Addo's government had established to stand the test of time and could run shoulders with the world's standard micro finance institutions.
He disclosed that MASLOC was set up in 2006 as a defensive mechanism to provide funds to the SMEs which occupy 92 percent of the market in order to bridge the equity gap between SMEs and large companies.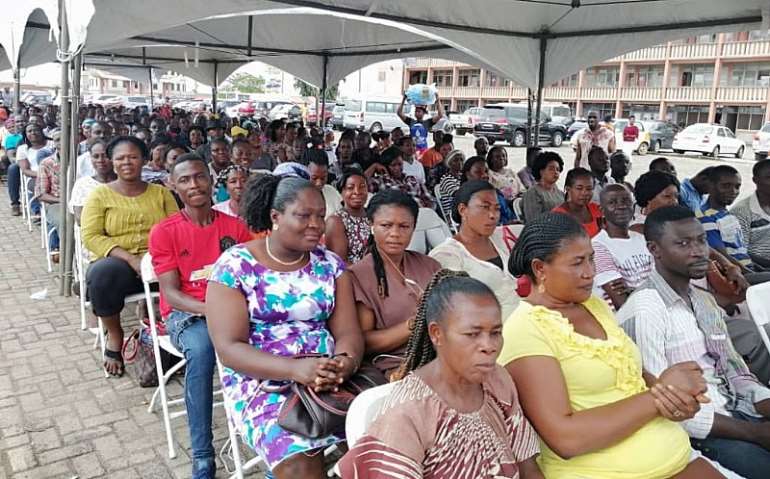 Ashanti Regional Manager of MASLOC, Hajia Zeinabu Sallow said the second round of disbursement was made possible after they achieved 85 percent recovery of previous loans disbursed to traders at the Paul Segoe Lane in Kumasi.
"We used the 2017/2018 to sensitize traders and potential beneficiaries, and this has accounted for the repayment of the loans. 85 percent recovery rate is appreciative and we hope to achieve 100 percent recovery," she stated.
Ashanti Regional Minister, Simon Osei-Mensah, on his part, said MASLOC had provided direct cash transfers and business needs to poor households in the country to facilitate the setting up of small businesses and expansion of existing ones for job and wealth creation.
According to him, the importance of SMEs in supporting the overall economic growth of the nation cannot be overemphasized, as they represent the backbone of well-functioning market economies and provide jobs and income to families around the country.
---Daily Guide