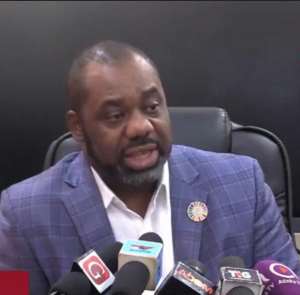 Minister of Education, Dr. Matthew Opoku Prempeh
The Minister of Education, Dr. Matthew Opoku Prempeh in a Press Briefing held yesterday in the attempt to lay away the fears of desperate Ghanaian Parents on the determination of the sexual orientation of their children has finally goofed on the matter and further muddy the water.
The Minister, Dr. Matthew Opoku Prempeh was categorical that, "the curriculum framework approved by the National Council for Curriculum and Assessment for use in the development of school curriculum, which has been approved by Cabinet and published DOES NOT include CSE."
Again, he says, NACCA has not approved any material on CSE as it is not included in the approved and published KG-P6 Curriculum framework.
Similarly, he emphasized that the 152,000 teacher's trained for the new curriculum approved were not trained to teach CSE.
The Minister also explained that there are faith-based organizations on both Ghana Education Service (GES) and NACCAs Governing Council to help ensure that the curriculum is aligned with our values as a Nation.
"We appeal to the general public and all faith-based organizations to exercise restraint and verify the facts of official government policy before making public pronouncements. The nation should be rest assured that the Government and the Ministry will not compromise our societal values in the delivery of quality education."
However it seems the explanation by the Minister has left even more questions than answers in the minds of Ghanaians as earlier this year in February,the Minister launched a UNESCO program he claimed was an O3 program connoted as,"Our values, our rights,and our wealth", describing Government's support to the Sexuality Adolescent Education being introduced at the time and thanking key stakeholders in the Sub Region in this regard.