Media Sensationalism And Political Rants May Lose The Sensitivity In Case Of Takoradi Kidnappings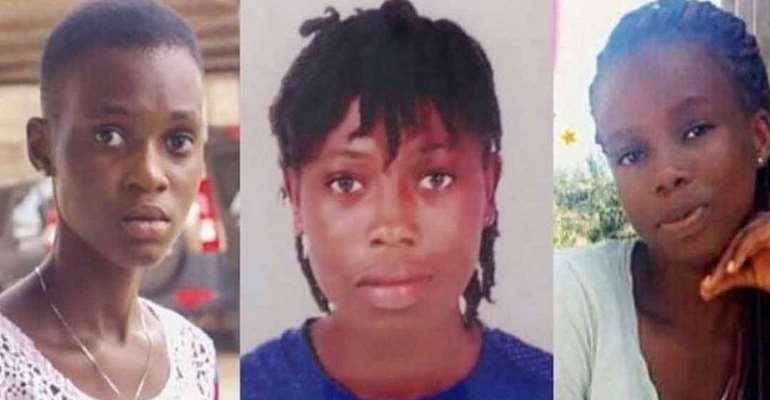 The media industry itself is suffering from trust issues and so if your name is being mentioned daily on the airwaves like COP/Mrs Maame Yaa Tiwa Addo-Danquah, do a sound reflection and if you realise that your convictions and conscience are at peace with you, drink a lot of water, take a cold shower and have a sound sleep. Don't worry so much so long as you have a firm conviction and a clear conscience because the media has its own agenda very different from public interests. The media can be a puppet in the hands of the rich and the wealthy especially politicians and businessmen as the case is in Ghana.
You can never trust the motives, intentions and purposes of our media industry especially here in Ghana where the media has a lot of taste and preferences for political and economic interests. There is a whole agenda behind the scenes being pushed by the politicians and business moguls to satisfy their own personal interests. There is no need to worry your head if you are the focus of their agenda. Just keep your cool if your intentions are genuine. They will soon forget you and start to feed on another person. That is how the media survive. You only need to understand and appreciate the media environment we have found ourselves in.
The media has been generally sensational with with with the kidnappings of the Takoradi girls leaving very little room for substance with the exception of the Joynews, Joyfm, Citi Fm and Citi TV which have been somehow tact on reporting stories about the kidnappings of the Takoradi girls. I must commend Joynews and Joyfm for how they have handled the Takoradi kidnappings and its related stories since the news broke and its later developments. I must say that Maxwell Agbagba of Joynews is really meeting standards when it comes to reporting on security issues especially matters involving the police. His news reports seem to be accurate, balanced and fair when it comes to the police and that is very commendable. No one is saying that the media should not report about the police but mischievous journalism and media practices targeted to run down the police service is unprofessional and below standards of quality journalism.
In fact, the police needs the media to straighten their ways and so no one is saying that the media should worship the police service. This time around too, Joynews and Joyfm, didn't precede and pre-empt police investigations with their news stories and commentaries. This time, their presenters didn't pretend to know and understand criminal investigations more than the police themselves but rather they tried to report facts and figures to give accurate and balanced reportage to the whole story and that is what professional, quality of standard of journalism and media practices are all about. I watched a Joynews editorial by Araba Koomson and I must say that it was impressive. Citi Fm and TV have as well been very professional with their approach giving some of us confidence that journalism and quality media practices can get better in Ghana with little efforts.
For many of us, the media is all about what we see on TV screens, hear on radio stations and read from from newspapers. Not so many Ghanaians understand how the media works from behind the scenes and so we are easily carried away by media sensationalism and empty political rants on our media space. We often don't know who are the owners of our favourite radio, TV stations and newspapers and the things they do to control the media in their own interests. We also don't know the reasons why these media houses our set up but behind the scenes are political motives and intentions to propagate their "political gospels" and economic interests to amass wealth for themselves. You cannot trust the intentions and purposes of the media. Their focus is different from national interests and so media practices and journalism in Ghana is much more of sensationalism than substance.
The media atmosphere in Ghana is very unfavorable and unfriendly for sincere national discourse. There is almost no space for fair, balanced and objective comments. The politicians have hijacked the media space and I must say that most of these politicians usually have nothing substance in what they say on airwaves apart from empty rants and unreasonable attacks on political opponents. Surprisingly, most of the morning shows on radio and TV stations are dedicated to these politicians whom some of them pretend to know everything from Achaelogy to Zoology.
It is much of a problem when these so called party communicators and politicians make attempt to communicate on issues of security related topics. You don't need to be told that some of them are very unlearned but unfortunately for us us in this country, "they have the platforms and so we can't say tweaaa" Who can say tweaaaaa? Nobody can say tweaaaaa especially those of us in the security services for fear of victimizations. You are quickly branded and tagged to be either NPP or NDC.
Unfortunately for us in this country, we have security designs and architectures which are heavily controlled by the politicians especially the ruling party and so issues of security which are of national interests usually end up being treated like the usual NPP and NDC matters on the airwaves. No serious journalism and media practices go on in this country when it comes to matters of security and so you should know why the likes of Mannaseh Azure Awuni and few other journalists are being victimised because of their works. They seem to make the difference when it comes to quality and standard journalism and media practices in this country. Such journalists and media practuoners are real thorns in the neck of politicians.
One funny thing is that, these same party commentators and politicians pretend to know every subject matter being discussed on radio and TV stations. They are the same people who appear on all media platforms to discuss national issues from economics to security. At end of the day, they end up mixing up and confusing the issues to the detriments of Ghanaians. They end up missinforming Ghanaians and deeply divide the country on party lines between the NPP and the NDC. The politics always shroud our senses of fairness and objectivity.
You know why our media space is full of political commentaries with most of these commentaries being full of empty rants? Politicians actually come to sit on national TV and radio stations to speak rot and nonsense and always get away with. You know why? It's the nature of our media landscape. The construction of our media landscape is motivated and engineered by two main factors - economic and political motivations, and so there is no space for genuine discussions devoid of politics on national issues especially in these times where public media has lost its relevance in the national discourse. In Ghana here, political sensationalism and irrationalism usually override issues of national interests and one of such issues is how party commentators of both NPP and NDC are handling the Takoradi kidnappings. We will soon lose the sensitivity of that case and the politicians and the media will leave the families to all by themselves.
If you care to know, check the background of most these media owners and in more recent times, you will realise they are financiers of either NPP or NDC. These media outlets are set up to help articulate and propagate party agenda apart from economic interests of their owners. The public media has lost its relevance in our national discourse giving rise to media sensationalism and irrationalism when it comes to agenda setting so don't be too surprised about the political rantings on our airwaves.
The media only set agenda which is of political and economic interests to their owners. The various media organizations in Ghana have their own political leanings and economic interests and so it is very difficult to have some sense fairness, balanced and objectivity when listening to them and how they set their agenda. Behind the scenes are owners of these media organizations who have strong affiliations to either NPP or NDC and so you don't need third and fourth eyes and ears to see and hear that the heightened calls for removal of COP/Mrs. Maame Yaa Tiwa Addo-Danquah is politically motivated and engineered.
You don't need to be told that the whole Takoradi kidnappings is being reduced to the usual political gimmicks of NDC and NPP, both sides pulling and dragging to score their own political points. We are gradually losing the sensitivity of this issue and so the families of the kidnapped girls must actually be very careful with political manipulations because they have their own interests. The commentaries have as usual turned out to be also another tug of war between the NPP and NDC. No one is happy that the four girls have been found dead instead of being brought back alive. Whereas well meaning Ghanaians who have genuine concerns about the the security of the nation are worried about the kidnappings, it is very sickening to see and hear the usual NPP and NDC party commentators making a political capital out of it with their usual empty rants on the various media platforms.
After the politicians who are media owners are satisfied with their interests, they will direct the focus of the media else and the family of the Takoradi girls will be left all by themselves and surprisingly, the media sensations and rants will also cease. Let's be careful with this case because we are at risk.
Ahanta Apemenyimheneba Kwofie III
[email protected]
#Ahantasdiaries_01_10_2019