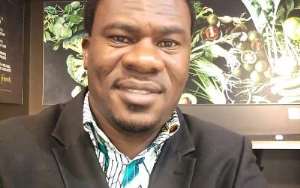 A Regular Panel on South Africa – based PRESS RADIO current affairs program dubbed "Ghana Te Sen", Rev. Emmanuel Donkor has called on the government to sanction all Heads of government institutions who would fail to comply with the government directive to procure their toilet rolls from local manufacturers in the next procurement recycle.
He said the Nana Addo - Bawumia led New Patriotic Party (NPP) government vision to move away from the export of the primary commodities to the manufacturing of these commodities can be achieved if appropriate sanctions will be given to defaulters of the government directives.
"We will appeal to all Heads of government institutions to comply with the directive of the government. And we are also urging the government to ensure that anybody who will fail to procure toilet roll from the local manufacturers will be sacked to serve a deterrent to others for the government to achieve his aim" he stated.
He made this call in an interview with Kwaku Anane Junior the host of "Ghana Te Sen" show on PRESS RADIO on Saturday, 28th September 2019.
According to Souls For Christ Ministries Outreach International Pastor, Rev. Emmanuel Donkor, the move by the NPP government will create jobs for Ghanaian people to reduce the high rate of youth unemployment in the country so Ghanaians should support the government.
All government institutions have been directed to procure all their toilet paper from local manufacturers in the next procurement cycle.
The Vice President of the Republic, Dr. Mahamudu Bawumia, gave the directive when he toured the Brompton Portfolio's toilet paper manufacturing factory located at the Nsawam Prisons in the Eastern Region on Thursday, 26th September 2019.
This directive comes a day after Vice President Bawumia directed the Ghana Cocoa Board to purchase all their fertilizer from local producers in the next crop growing season.
Rev. Emmanuel believes the directive is long overdue but he is optimistic the country's economy will grow if made in Ghana goods are being promoted.
He, therefore, appealed to the government to support local manufacturers with the necessary materials and equipment to produce more.
He also charged local producers to produce quality goods and others to meet international standards so that the country can export some of the local produce items.
Source: Thepressradio.com/Anokye Elvis