C/R: No Road, No Vote — Ekumfi Residents Protest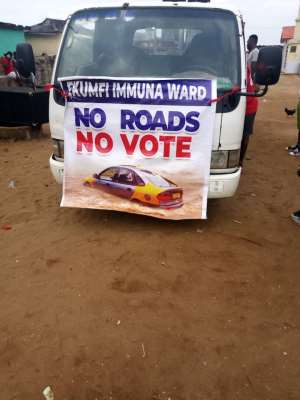 Citizens of Ekumfi Immuna in Ekumfi District of Central Region have demonstrated today against the government and the assembly over the bad roads in the area.
They said numerous campaign promises to construct the roads have failed.
Speaking to demonstrators, some women said the road has contributed largely to maternal mortality in the area. "Women in labour have lost their lives due to the nature of the road."
The group is threatening to boycott political activities in the community. "It seems they have neglected we the people in Ekumfi Immuna community here so we will not vote if our roads are not fixed."
"We are tired of promises from politicians therefore if they refuse to construct our road, we will not welcome any politician in the town for campaign," some lamented.
According to them, politicians have disappointed and neglected Ekumfi Immuna community for so many years.
"We always also contribute and pay taxes to help develop Ekumfi District, and Ghana as well so we are appealing to the government to come to our aid. We will vote against the government come 2020 general election if our pleas are not adhered to," the residents fumed.