NDA Exposes SADA $9m 'Rot'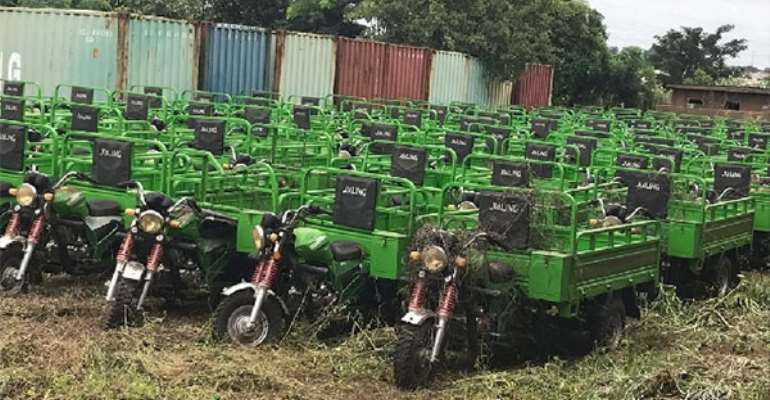 Management of the Northern Development Authority (NDA) have exposed a stinky tricycles deal that the then Savannah Accelerated Development Authority (SADA) with a private company named UNIK Savannah.
The deal was termed SADA-UNIK Savannah Tricycles Agreement.
According to NDA, it was worth an amount of $9,500,000.
The contract was for the provision of 5,000 tricycles under the tricycle project.
According to the NDA in a statement, out of the 5,000 tricycles that were imported, 3,000 were assembled, 2,239 were released/sold and 732 "left under very unfriendly weather conditions."
Setting the records following claims made against it, the NDA pointed out in the statement that currently, there are a total of under 2,000 of the unassembled tricycles.
Per the contractual agreement, it said, UNIK Savannah Limited was to procure, assemble and retail tricycles and motorcycles.
"Secondly UNIK Savannah was also to identify market officers or agents, and, through a hire purchase agreement, to sell out these tricycles via a credit system process," it noted.
UNIK Savannah Limited otherwise known as UNIK Dezines strangely collapsed within six months of its creation, according to the statement.
It explained that at the point of collapse Unik-Savannah had demonstrated a clear inability to recover payments of beneficiaries of tricycles through the marketing officers and agents.
This was strange and appeared to have been orchestrated deliberately for personal "gain-and-collapse" game masterplan, it stated.
Marketing officers of UNIK Savannah Limited were fingered in fraudulent inclination after they reportedly received payments from some beneficiaries but failed to account for same, NDA reported in the statement.
In the wake of this, it said, monies that were expected to be paid into a special account at Stanbic Bank to amortize a letter of credit guaranteed by the authority were never paid.
It claimed that the tricycle business was designed as a Private Public Partnership (PPP).
However, it stated that there was one-sided expenditure by SADA, as it bore all the cost of this UNIK Savannah/SADA Venture.
"A whopping Nine million, Five Hundred Thousand (US$9,5000,000) was provided by SADA alone via a Letter of Credit arrangement (L/C) and none by its PPP Partner to procure the tricycles."
This cost, it revealed, the records show included import, salaries and allowances, transporting and carriage, field clearing and other services.
Poor Leadership
It is clear that then SADA did not show leadership, professionalism and prudent resource management. It is this which plunged the UNIK Savannah into huge debts, according to the statement.
Furthermore, it disclosed that it was clear that having planned the procurement of thousands of bulky goods, SADA failed to anticipate the storage facility needs for the consignment.
"Thus no proper facility was provided for the assembled tricycles leaving them under the mercy of the weather for years and resulting in a significant depreciation of up to 60% according to the latest valuation by the State Transport Company (STC) Limited", it said.
" It was realized that the organizational structure of UNIK Savannah was deficient paving way for fraud by some of the marketing staff."
Unanswered Questions
"There are still more questions than answers. Where is the PPP Agreement between SADA and UNIK Savannah? What were the terms of agreement between SADA and UNIK Savannah? it quizzed.
BY Melvin Tarlue