Volta Residents Bare Teeth At Gov't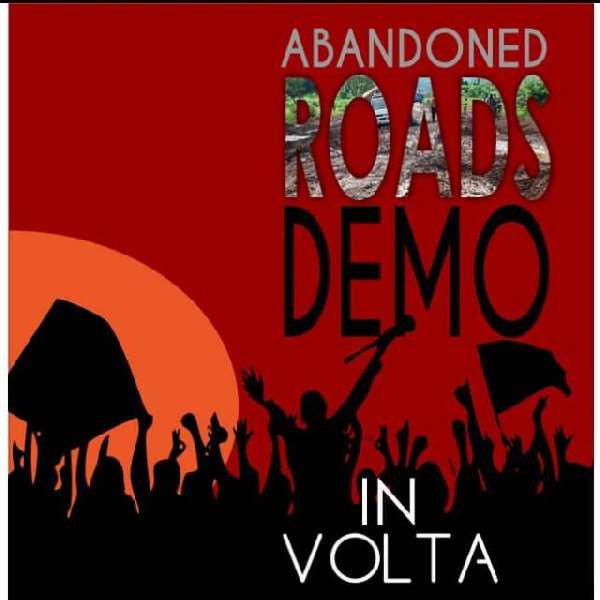 Angry residents of the Volta Region have charged at the Akufo-Addo government for abandoning road projects inherited by it across the region. They are appalled by the government's complete lack of interest in building these roads, which has rendered most of the roads almost imotorable.
The residents clad in red attire converged at Kpeve, the South Dayi district capital, for a massive demonstration, taking over most part of Kpeve township, market and portions of the Eastern Corridor Road, as they expressed challenges encountered traveling on the roads.
Some of the protesters carried placards which read "Fix abandoned Volta roads", "THE ABANDONED ROADS ARE KILLING US," "CORRUPTION MONEY CAN FIX THE ROADS," and "NANA ADDO, YOU HAVE LOST THE FIGHT AGAINST CORRUPTION."
These are road projects that were progressing steadily until the Akufo-Addo government took over and ordered contractors, particularly those under Cocoa Roads Projects, to stop work forthwith and has not since asked them to return to work.
COCOBOD CEO, Joespeh Boahen Aidoo, is on record to have said the Volta Region produces no cocoa for cocoa proceeds to be used to fund their road projects.
The Volta Regional Minister, Dr Archibald Letsa and President Akufo-Addo had both made numerous promises to fix the abandoned roads but are yet to redeem themselves.
Speaking to the media during the protest, a member of the "Fix Abandoned Volta Roads," Joshua Edem Tetteh, said they will undertake a series of demonstrations until work resumes on the abandoned roads.
He said the roads are bad and the people in the region are suffering." I want to emphasise that this is not a partisan demonstration, and that they will continue to demonstrate until government fixes our roads," he noted.
Mr Tetteh listed some of the abandoned roads as Asikuma Junction – Kpeve – Have - Hohoe, Kpeve – Dzemeni, Ho – Sokode dual carriageway, Ho bypass, Sokode – Akrofu – Kpeve, Bame – Hlefi – Dzolo, Ho – Aflao, Ho – Kpenoe – Hodzo – Tokokoe among others.
On his part, Member of Parliament (MP) for the area, Hon Rockson Nelson Dafeamekpor said President Akufo-Addo cannot continue a policy of discontinuation of projects when he actually promised a continuation when in opposition.
"Government operates in a single continuum. So, when a government starts a project and is unable to finish and a new person comes to government, he ought to continue. You don't come with a government policy of discontinuation. That is what we detest. President Akufo-Addo came to Parliament; that he has ordered all these projects to be audited and because of that the projects should be halted. It is 3 years now and we are asking, haven't they finished with the audits?" he asked.
"Where are the audit reports? At least some projects would have been cleared if indeed there were issues. But they haven't done anything. Most of those projects are found in the Volta region and when you get to places likes South Dayi, it is as though we are not part of Ghana," he added.
Some of the leading political figures in the region also joined in the demonstration to drum home the wishes of the people.
Source: The Catalyst Newspaper