Bawumia Caught In PDS Fraud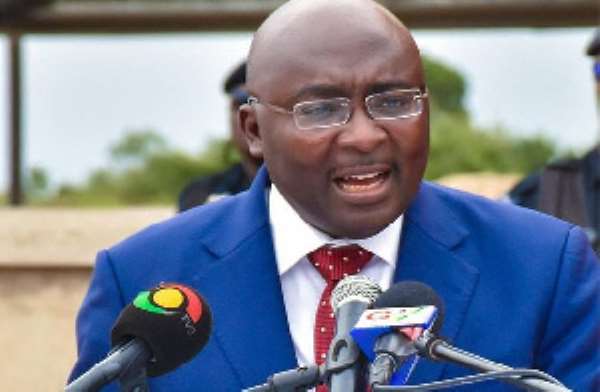 As Ghanaians try to get to the bottom of the stinking Power Distribution Service (PDS) scandal matter, it has emerged that the Vice President, Dr Mohammadu Bawumia, was deeply involved in cutting corners and lowering the bar of the fundamental requirements for PDS contrary to what is prescribed by the Millennium Challenge Corporation (MCC) Compact II and approved by parliament.
FTI Consulting Inc., the USA firm hired to undertake the forensic audit revealed that Dr Bawumia at a meeting in the Jubilee House gave a "prior instruction" to have 'Bank Guarantees," a condition precedent varied for less to an "Insurance Guarantee" for PDS to be able to meet in order to take over ECG.
"The structural changes made to the original form of the Payment Securities as contemplated in the Lease and Assignment Agreement (LAA) and Bulk Supply Agreement (BSA) were approved by the MiDA Board, an action that was in line with the prior instructions given by His Excellency the Vice President to authorize PDS to issue the guarantees," the FTI group stated as part of the conclusion in its 32-page investigative report, a copy of which is in the possession of The Catalyst.
According to the report, prior instructions which was to change the Demand Guarantee for something less was at a "meeting at the Jubilee House chaired by His Excellency the Vice President. Others at the meeting include the Chief of Staff, Hon Minster for Finance, two Deputy Ministers of Energy, MiDA Board Chair and CEO, ECG Board Chair and MD, other Senior officers from the Ministries and agencies were also present at the meeting."
The "Demand Guarantees" requirement, which is a condition precedent, provides for contracting only a concessionaire (a company) that has the financial wherewithal and technical capabilities to be able to effectively manage ECG and its Gh22 billion assets.
The FTI Consulting report noted, "PDS not having a certain level of capital required for the issuance of a cash backed Letter of Credit, which was an option offered by some financial institutions that PDS had approached. We were informed during interviews that PDS was offered the opportunity to secure a cash backed Letter of Credit if it could deposit $350 million in its bank account."
$350 million, an amount PDS didn't have and therefore Vice President Dr Bawumia had to cause what could best be described as a manipulation of the fundamental requirements by issuing what the FTI report described as "prior instructions" to MiDA for variations resulting in the "Bank Guarantee" (a condition precedent) questionably reduced to "Insurance Guarantee" and the Payment security reduced to a condition subsequent.
The Chairman of PDS, Philip Ayensu who has no known expertise in electrical or electronic engineering, own a first-class barbering salon which this Paper has learnt is the grooming base of Dr Bawumia, President Akufo Addo, Finance Minister Ken Ofori Attah, Gabby etc.
As to how PDS was able to raise the $12.25 million Insurance Guarantee, the FTI investigative report noted that PDS Chairman, Philip Ayesu, paid $1million as a Personal Equity Contribution, Santa Baron who is part of the PDS consortium also through Cal Bank made available $7million Personal Loan Advance which has since been reclaimed while the $4.25million claimed to have been paid by PDS was actually operating cash flow of ECG.
Member of Parliament (MP) for Yapei-Kusawgu, Hon John Jinapor, on Joy fm's Newsfile said he has seen documents that suggest even the $1 million Personal Equity Contribution of PDS Chairman was ECG money wired into personal accounts for such a payment.
It is important to recall that ECG Board is currently chaired by the finance minister, Ken Ofori Atta's long-time friend and business partner, Keli Gadzekpo, both of whom and their families hold majority shares in Enterprise Group and are alleged to be scheming with others to appropriate ECG for personal gain as was in the SSNIT/GoG Obotan Housing Project.
It is also important to note that Vice President Dr Bawumia who varied the condition precedent for worse became the running mate of Nana Akufo Addo through the instrumentality of Ken Ofori Attah.
Source: The Catalyst Newspaper