Ghana To Increase Exports To EU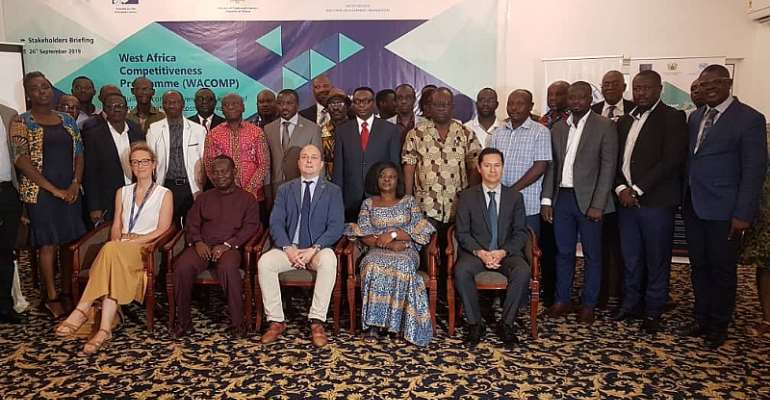 Ghana has been picked out in the priority market in the west Africa competitiveness programme to boost its exports of Cassava, Fruits as well as Cosmetic; after recording impressive performances in export to the European market in 2018 only across the Agri-business chain.
The programme which was in partnership with Economic Community of West Africa States (ECOWAS) and European Union (EU) saw Ghana recorded extreme volume worth €3.1 billions to the European market in 2018; Accounting to 48% increment from 2017.
Speaking to the first-ever stakeholders briefing in Accra on the theme "building competitiveness for export of cassava, fruits and cosmetic value chains in Ghana"; head of cooperation at EU, Zoltan Agai says, Ghana has a strong potential of Agri-business export sharing the regional, continental and international markets; therefore the EU is willing to support the country in this endeavor.
According to him, the EU is one of the strongest investment partners of Ghana; which in 2018, Ghana exported €3.1 billion goods into European Union markets a 48% increase of the previous year.
Mr. Charles Kwame Sackey Chief Technical Advisor to the project, projected a high performance in export once the four years old programme is completed.
"Usually we say this is for Ghana and this is for the European Union markets, if I want now is to know it from the beginning That your products can be competitive anywhere you want", he said.
He added that this project would help producers to conform to the standard and produce more.
"I think this project coming on helping producers to conform to the standard and producing more would be able to contribute more increase from €3.1 billion to something; which we may have the excess figure at the end of this year or next year ", he added.
West Africa competitiveness programme (WACOMP) is funded through the €120 million contributions from the regional indicative programme (RIP) for West Africa (2014-2020) under the 11th European Development Fund (EDF).
The objective of the programme is to strengthen the competitiveness of West Africa and to enhance the ECOWAS countries integration into the regional and international trading system, including the newly established African Continental Free Trade Area (AfCFTA).
In Ghana, the programme is implemented by the United Nations Industrial Development Organization (UNIDO) in partnership with Ghana's ministry of trade and industry.
The programme is expected results in SMEs and intermediate organizations of the 3 selected value chains - Fruits, Cassava and Cosmetic and personal-care products - have increased capacity to produce quality products integrated into the global value chains and acceptable to the regional and international markets.