Illegal Small Scale Miners Get Gov't Livelihood Support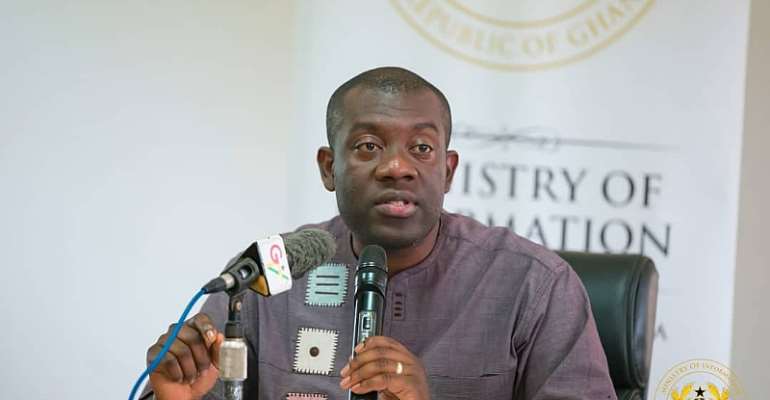 Government has announced a number of support programs for former illegal small-scale miners through the enhanced Alternative Livelihood Program and Community Mining Initiatives (ALP&CMI).
Minister for Information, Kojo Oppong Nkrumah who disclosed this at a press briefing in Bolgatanga in the Upper East Region said these programs are to provide support for former illegal small scale miners who were affected by Government's ban in 2017.
Addressing the media, he said, "For those who want to remain in mining but do it legally, government has introduced the Community Mining concept through which former illegal small scale miners are properly registered, trained, given concessions to jointly work on and properly tracked to ensure they mine responsibly".
He added that about 4500 miners have so far been trained while some have already been accredited.
The minister mentioned that Government has also rolled out the Alternative Livelihood Program which seeks to train those who are no longer interested in mining to work in other economic sectors.
He said the training covers skills such as oil palm farming, others are also being trained by Local Government Ministry in the areas of tailoring & dressmaking, welding and metal fabrications, plumbing & carpentry.
"The expectation of government is that these interventions will ensure that former miners remain economically engaged even as the battle against illegal small scale mining remains in gear," the minister added.
The minister cum lawmaker further disclosed that Government has made further investments in cocoa as it looks at launching Cocoa Forests Redd plus program.
He says Ghana will roll out a series of interventions aimed at promoting a climate smart cocoa regime in the country.
"The interventions are led by COCOBOD, Forestry Commission, World Cocoa Foundation, CSOs in the cocoa industry as well as other industry players. Climate smart cocoa is the production of cocoa without forest degradation but rather with methods that instead enrich the vegetation cover and nature," he mentioned.
Hon. Nkrumah also noted that the launch of these initiatives will mark the beginning of the initiative with cocoa farmers nationwide expected to take advantage of it.
On the election of Metropolitan, Municipal, District Chief Executives MMDCEs, Mr. Nkrumah says the Information Services Dept (ISD) has commenced a campaign on the upcoming national referendum.
"The referendum is for the amendment of Article 55(3) of the constitution to allow for the public election of MMDCEs. President Akufo-Addo promised that he will ensure shifts from the current system of appointing DCEs which some have argued".
He says Government is urging particularly the media and civil society groups to join in this campaign.
Joshua Kobby Smith
Journalist