Free SHS is a magic; *110# on Vodafone can help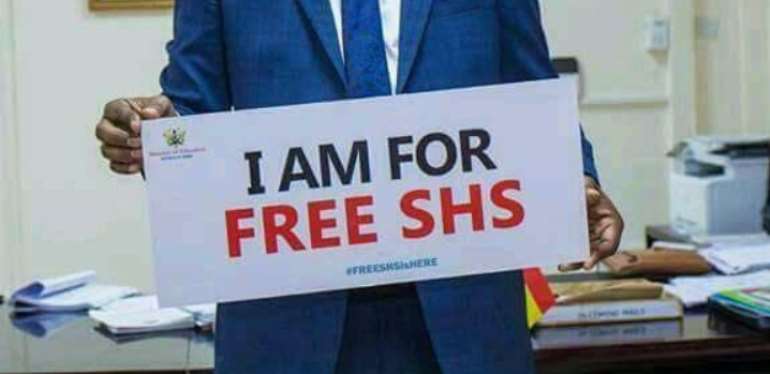 All started like a joke. Most of us thought it was just a mere political talk. Even bloody members of the New Patriotic Party were not sure of the implementation free SHS despite the fact that it was captured in their manifesto. They were like; there should be a cutoff point for students who are to benefit from the free SHS. Others were arguing the rich should pay while the poor enjoy the free SHS as citizens. Least to talk about the doom prophets who were like; Senior High School education can never be free in Ghana until 2020. What is the source of funding for such a huge capital demanding project? They questioned. Where is the infrastructure to accommodate the SHS students? They quizzed.
Upon all these uncertainties, our defiant and adamant president Nana Addo Dankwah Akufo Addo was optimistic the Free SHS will and shall come to stay. He maintained it was his dream for every qualified Ghanaian child to be placed to pursue his secondary education. And he made this known to every Ghanaian on the least platform he got. In an address he read at the 68th speech and Prize- Giving Day of Prempeh College he asserted "free SHS policy has come to stay to ensure Ghana's children will be educated to at least the secondary school level, and money or lack of it can no longer mean denial of education". He continued "let me burst the bubbles again. Free SHS is here to stay because leadership is about choices and I have no doubt that majority of Ghanaians are in support of the choice I have made".
There we are, the free SHS dream has become a reality. Not to say there are no challenges, but the 2017 and 2018 and 2019 free SHS beneficiaries have been posted successfully. In all, about 1.2 million children will be enrolled from Junior High 1-3. Imagine each and every one of them was to pay an amount of GHs1500 or more as school frees.
Since the implementation of the free SHS, many Ghanaians have been asking peculiar questions. Where is the source of funding for the free SHS? Where does this Nana get his money for the free SHS? Is it only the tax payer's money he uses? Is the money form Foreign Aid? Is that our oil money or our Chinese loan? Indeed, observers are worried.
With all political decorations aside, every well-meaning Ghanaian knows the free SHS policy is a gift of nature to a Ghanaian parent through Nana Addo. Every well-meaning citizen of Ghana knows that despite its short falls, the free SHS policy is a gem. A very close friend from the largest political party, NDC last told me "look, this free SHS policy of the NPP government must be commended because I have two siblings who have just been placed into senior high schools, and as poor farmer as myself, I would have paid their fees and make the necessary financial arrangement to send them to school and that would not have cost me less than Ghs6, 000". Another participant in that same conversation added "me, about three of my family brothers have been placed, and I swear if not for the free SHS policy, our only resort would have been to call a family meeting to contribute for the children to report to school; for the free SHS of this government, it must be applauded". As a third participant in the conversation, I just smiled and nodded my head in reaction to their broad day light confessions.
Truly, truly, there is wisdom in number as the elders say. Something very important came out of this conversation. I jokingly told them that since the free SHS policy is helpful then we all have to donate to its course. There that I found out that one can donate to support the free SHS policy through Vodafone cash by dialing *110# and go to option 9. Just in that sitting, one of them donated one Ghs1.00 and remarked "good policies deserve to be supported". What a patriotic gesture.
Oh yes, one needs no soothsayer to tell you this Nana free SHS policy is a good social intervention by all standards, regardless the challenges it has encountered. Frankly speaking, many thought the free SHS was a joke but, Nana Addo made it a realistic social intervention. It is left onto the ordinary Ghanaian to support in its course.
Dialing *110# and going to option 9 means supporting free SHS policy. Dial *110# and go to option 9 and support free SHS now!
God bless our homeland Ghana, And make our nation great and strong.
Written by:
Abdul Latif Alhassan
0247011871/0203171028