Is Nana Akufo Addo The Inept Leader Or His Ministers?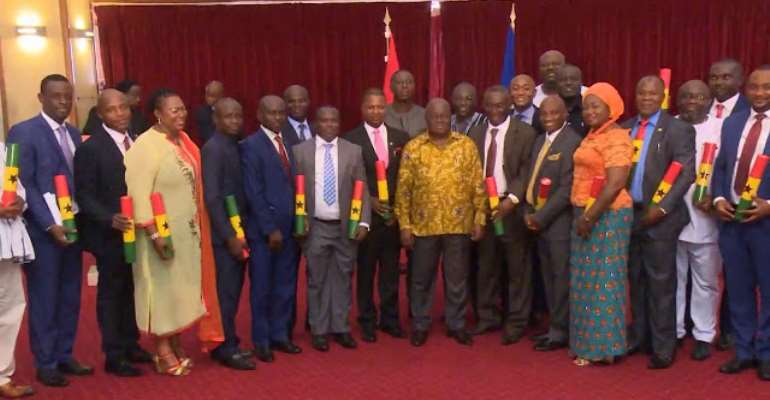 The greatest and possibly irremediable peril in present Ghana, in my opinion, lies not only in greediness, egotism, or corruption, that has engulfed the entire nation but also the visible lack of intelligence of rulers and ministers holding key positions in Ghana.
It's really good for every country in the world to have a leader, the reason African countries have leaders but the majority of African leaders actually don't know what to do to run a successful government to create a good economy and employment for the suffering masses.
I have said it over and over that, you can provide all the best ingredients and spices to a woman but if she doesn't know how to cook, she can never prepare a delicious meal. This leads to the question: Why Ghana has a lot of resources, including oil, yet the country lacks proper healthcare facilities and so many people unemployed?
People hate the truth, that's why it's often said 'the truth is bitter than the bile.' We can't continue blaming Europeans for the role in under-developing Africa every time. Yes, they looted Africa, it's a fact but Africa still has its infinite resources available which when well utilized, there will progress on the continent.
The Ivorian reggae star, Alpha Blondy, once said: "There is no improvement in this Africa Unity or the United Brains of Africa: The African Union must organize so many scholarships for brilliant students who want to study physics, mathematics, engineering, and politics, to learn in European universities, that is what is needed to build a true democracy in Africa."
The fact that the continent lacks good leaders and above all, mostly interested in corruption, have brought woes, hardships, and crime in society.
Everyone understands that the current Ghanaian leader, Nana Akufo Addo, hasn't been in power for too long, therefore, he needs time to put things right, since according to the NPP, they took over a mess up economy.
However, the truth which people wouldn't like to accept is, despite all the corruption accusation on the head of John Mahama, with less than 110 ministers, the living conditions in the country was better than what many Ghanaians are experiencing now.
Ghana at the moment is indeed, a tough country to live. Many are now crying for economic redemption.
Imagine, the projects which the former Ghanaian government left uncompleted after losing power in 2016, are now a complete waste and financial resources. The NPP government has refused to complete those projects. How do you expect Ghana to be a successful country?
After the collapse of some banking institutions in the country, can a reasonable leader even think of putting up a Cathedral amidst hunger and unemployment even if he claims to finance it himself?
To become an effective leader, you need to work hard but the willingness to sacrifice something personal in the name of the interests of Ghanaians is not there. This is one of the reasons despite the current Ghanaian government having the largest number of ministers, Ghana is still an unbearable country to live.
An ideal leader should be a good diplomat and a high-level professional, as well. Truly, great people have never been arrogant and, on the contrary, have always understood people.
To be a leader doesn't mean to ignore people and abuse your position by shutting down radio stations because they are not in your favour. That's not a democracy, in fact, only dictators live on such measures hoping to feel secure.
Nana Akufo Addo must count himself to be one of the luckiest Ghanaian leaders. Instead of giving thanks to his fake prophets, he mustn't stop giving thanks to the Ghanaians who voted for him just because they were angry and fed up with John Mahama and the NDC entourage.
The current government cannot put themselves in the place of another and look at the situation from a different point of view, thus, they lacked leadership expertise.
They fear changes, especially, if the project involves a large amount of money, yet it's easy for them to steal that amount to live a comfortable life.
To foil a coup plot doesn't mean that Ghanaians are free from troubles, God only knows what lies ahead.