I Swear To God I Will Descend Heavily On NDC Destructors — Gonja West DCE Vows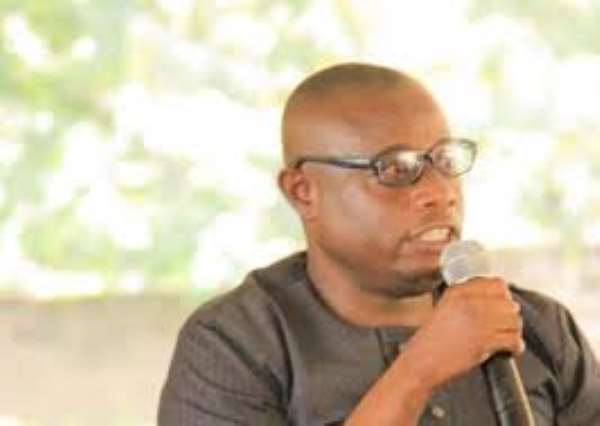 District Chief Executive for West Gonja, Hon.Saaed Muhazu Jibreal
The District Chief Executive for West Gonja, Hon.Saaed Muhazu Jibreal has vowed to deal with any member of the opposition NDC who attempt to destruct the NPP parliamentary primaries being held nationwide today.
The NPP in Damongo constituency decorated the premises of Damongo SHS with party flags and paraphernalias.
A situation which has since aroused political crossfire within the constituency with the NDC describing the action as a blatant disregard for the GES directive which bans political activities in Senior High Schools across the country.
The NDC has called on the appropriate authorities to investigate the matter and take the necessary action.
However, the DCE who got wind of the happenings, said on a local based radio station, PAD FM that, as chairman of the District Security Council, he will not countenance any attempt to destabilize Damongo and the district at large.
He warned the NDC to stay away from the premises of the NPP primaries to avoid any confrontations.
According, the government will mount heavy security and surveillance at the venue to deal drastically with any "destructive NDC lawbreakers."
"I am asking, is this the first time a political activity is being held at DASS. Is NDC saying they've never held a program at the school...But I want to throw a caution, if you think you can take the law into your hands and fuel tension, I'll let the law take its course. You can be anybody, I won't joke with you. The NPP has the right to use the facility...What is the noise about this whole thing? I insist and I repeat myself; anybody who takes the law into his hands and goes there to cause any destruction, I swear to God that the law is going to take its cause," he fumed.
He continued, "NPP is having its program and non-NPP members must stay off!....I have called the Regional Police Commander. I have called the District Police Commander and we are going to put surveillance there for 24-hours. Anybody who goes there to cause mayhem will be held responsible".
Meanwhile, the NPP in a press conference accused the incumbent MP as being behind the diabolic machinations to run down their candidate and the entire primaries in the area.
According to them, there are evidence that former president Mahama was never denied access to the school premises as the NDC wants the public to believe.
They believe the current action of the NDC is aimed at covering up the incompetence of their parliamentary candidate, describing him as a massive failure.