Bawumia Charges Military To Redouble Intelligence Gathering To Avoid Terror Surprises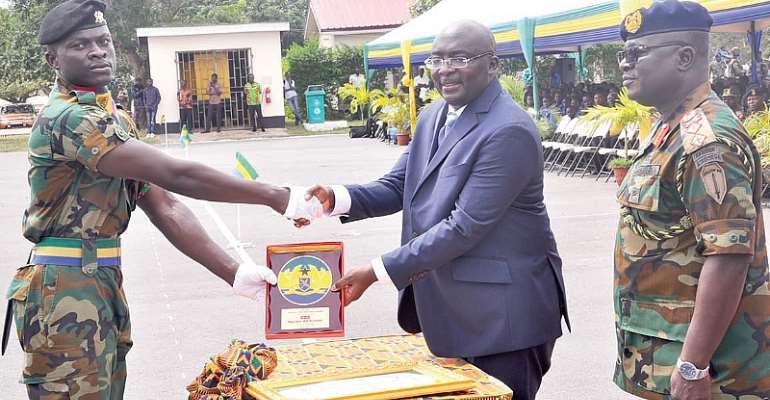 Vice President Dr. Mahamudu Bawumia has asked the military to redouble their intelligence gathering and sharpen their readiness to neutralise any attack on the nation by terrorists.
"Our sub-region is faced with the serious problem of terrorist activities as our neighbours are presently battling jihadist movements and the threat is moving closer home," he said.
He made the remarks when he addressed soldiers during the general parade held by the Ghana Army as part of activities marking Army Week celebrations held at Teshie in Accra.
The celebration was themed: "Ghana Army-Providing Security for National Development".
He said government would continue to work closely with the Military High Command to ensure that their logistics and operational needs including equipment, clothing and accommodation were adequately met and on time for both their internal and external operations.
"I can assure you that the Ghana Army would receive its fair share of the support being provided by the government to the Ghana Armed Forces," he said.
Government, he said, had embarked on projects in the areas of housing, provision of equipment and training to ensure that the morale of troops and their dependents always remain high as they go about their duties.
"The barracks regeneration project embarked on by the government is ongoing and very soon your accommodation challenges will be a thing of the past," Dr. Bawumia announced.
He urged all troops to continue to work to promote cordial civil-military relations in the country.
"The need for good working relations with your sister security services and intelligence bodies is very essential in times of terrorist threats in our sub-region. There is no need to spend our energies attacking each other. When terrorists attack, we need to be together, in the right frame of mind and posture, to react appropriately," he explained.
There was a display of foot and rifle drills by personnel on parade to show their ability to move and act as a team.
Awards were given to two personnel for their show of professionalism in the discharge of their duties.
Warrant Officer Class One Peprah Moses Anane received an award for saving his life and the lives of other soldiers at Bundase, by locking a grenade from exploding within five seconds.
Corporal Afful Kwadwo Samuel also received an award for saving others after he was shot on the left arm at Alavanyo before seeking medical treatment.
---Daily Guide