Ghanaians Must Bow Down their Heads in Shame for Being Corporately Indicted for Corruption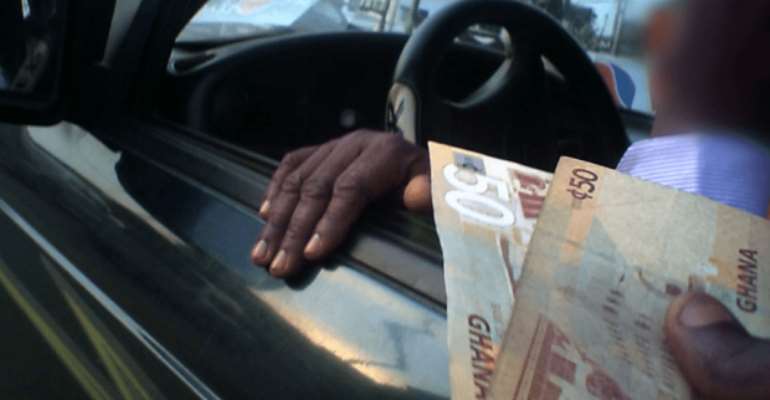 The more I decide to stay away from my computer, giving myself a break from issues relating to Ghana, the more some serious subjects of national interest crop up to oblige me to express my views about them. Some people may ask, why should the problems about Ghana give you headaches since you do not reside in the country? The answer is very simple. Is it not said by our old wise men, "When it touches, thus soils, your heel, it has affected your buttocks?" Any bad thing said in generalisation about your kind, no matter in which corner of the world you find yourself, you are so affected, irrespective of your riches, higher academic standing, or your elevated status in the society.
Indict by definition is to charge with an offence or crime; accuse of wrongdoing; castigate; criticize.
The potency and desire of Ghanaians to be corrupt, thus, embezzle public funds and assets, abuse their power to favour their cronies and family members, abuse their power to facilitate the resort to criminal activities by their political parties members is so overwhelming as to make our country less attractive, with Ghanaians mocked for being carnal-minded Christians. The corporate Ghanaian's infatuation with corrupt practices and shameless support for, and defence of, the masterminds of corruption, is so shocking as to denigrate us in the eyes of our contemporary serious-thinking white race.
Almost every Ghanaian is religious in a sense. Either one is a Christian, a Muslim or an idol worshipper. You cannot even get ¼ of 1% of the Ghanaian population being atheist. However, you have about 99.9% of the population being lovers and perpetrators of corruption of all sorts, although our religions of whatever nature, teach us not involve ourselves in such evil practices. How do we consider ourselves Christians, Muslims or idol worshippers if we actively indulge in evil practices and behaviours frowned upon by the tenets of the religions?
Unfortunately, we are derided the world over and are seen as jokers with our much touted fight against corruption. The fight is just in name but on the ground, corruption orchestrated by our politicians and well-placed civil servants as copied by the ordinary Ghanaian citizens is ramifying hence giving rise to all the other evils ravaging the country.
Corruption is the mother of all evils in the Ghanaian society. Is this corruption not about the desire to get quick buck? Is this corruption not about the quest to have more power and authority to do whatever you like to have others kowtow to you? Is this corruption not to get your cronies, family members and your political party members live better than others and commit crimes with impunity? If all are vying to participate in corrupt practices at any least opportunity they get, the end result will be the insecurity, armed robberies, defamation of character, insults on one another, as are currently rampant in the country.
The stench of the Ghanaian corruption has reached every corner of the world and the higher firmament hence concerned Australian High Commissioner, Mr. Andrew Barnes, and the Netherlands Ambassador to Ghana, Ron Striker, expressing their worries. Mr Barnes is aghast at the level of corruption in Ghana even though Ghana is officially known to be a Christian or a religious nation.
Does Jesus Christ whom we follow through his Christian teachings not forbid us from partaking in evil doing? Is the love of, or practice of, corruption, not evil? Mr Striker in what may sound a clever insinuation, is admonishing Ghanaians to rather pursue what he terms a "Ghana Beyond Corruption" rather than His Excellency Nana Addo Dankwa Akufo-Addo's pursuit of "Ghana Beyond Aid". It is when we wean ourselves off corruption that we can realise enough money to stop our presidents from going after the white countries begging for alms to develop our nation but which money ends up stolen by our insatiably greedy politicians.
Have we seen how intelligent the White people are? Yes, in the Whiteman's land, there is corruption. Nevertheless, the corrupt practices are not so overwhelming as to make their nations and citizens impoverished as it is in Ghana in particular, and Africa in general. No wonder that the black man is not capable of managing their own affairs.
The Ghanaian pastors are mostly money-grabbing devil incarnates who interpret the bible verses to suit their evil intents. If they were to preach salvation and live by the word of God, the nation and the people would not be lingering in that level of marked poverty to make almost every Ghanaian resort to corrupt practices to make ends meet. Shame on them!
As I bow down my head in shame in the face of our incompetence to fight corruption successfully, so do I invite all my Ghanaian compatriots to join me in weeping our eyes out at our failure to fight corruption but making a mockery of ourselves by our fondness for corruption.
Shame on me. Shame on you. And, shame on us all, especially our political and civil service leaders.
I leave you to read what the two mentioned White Ambassadors to Ghana are saying about Ghanaians. Let us be thankful to them for being candid with us, a nation of corrupt beings!
https://www.ghanaweb.com/GhanaHomePage/NewsArchive/Corruption-is-a-problem-in-Ghana-Australian-High-Commissioner-783659
Until we change our bad habits, let us begin to shame ourselves by greeting any Ghanaian you meet as Good morning/afternoon/evening Mr/Mrs Corruption. And, the response should be, Fine morning/afternoon/evening Mrs/Mrs Corruption. It is when we feel the shame of being corrupt that we shall be able to stop practising corruption and again, let us report those practising gargantuan corruption to the law enforcement agents. Are they not themselves Ghanaians hence are equally corrupt? Anyway, where there is a will, there is always a way. With our collective efforts to stop corruption, yes we can!
Rockson Adofo
Friday, 27 September, 2019