Angry residents and commuters within the Atwima Nwabiagya South Municipality of the Ashanti Region on Thursday embarked on a demonstration to call on government to fix deplorable roads in the area.
They also threatened to boycott the 2020 general elections if their concerns are not addressed.
Besides the roads, they are also unhappy about the bad state of the Tanoso-Abuakwa stretch where construction which started 12years ago has been abandoned.
The Abuakwa-Tanoso Road is a major route that connects the Ashanti Region to the Western North, Ahafo and Bono East and Bono regions.
According to the residents, since construction works on a portion of the road was halted, there is constant heavy vehicular congestion on the stretch.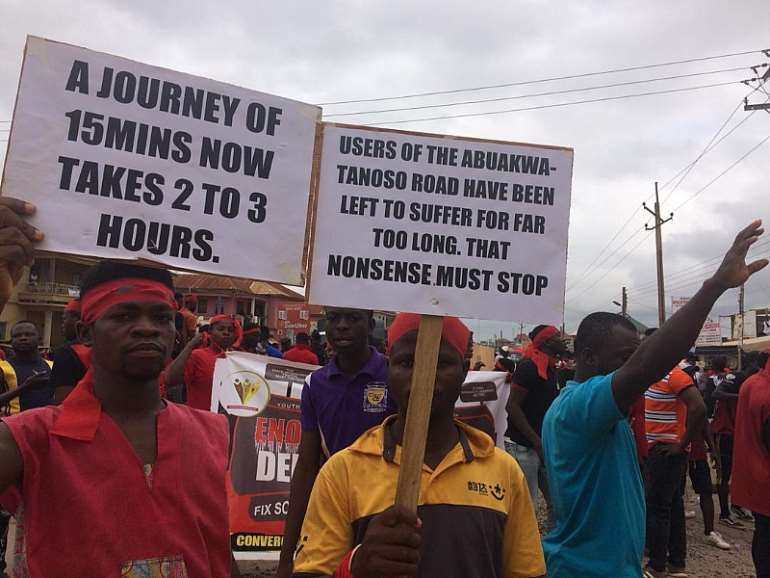 The protesters blocked the portion of the road where construction works have halted. Some protesters told Citi News that they want government to fix all the roads in the area.
"We want the government to help us to fix the Tanoso to Abuakwa road. It takes us almost four hours getting to Kejetia alone but the normal time should be between fifteen to twenty minutes. We want government to help us fix the road. That's our mission for the demonstration. This is a peaceful demonstration but for the next demonstration, we would all strip naked or refuse to vote if the government refuses to help us," one man stated.
"We are doing this demonstration because we want the government to fix this road for us. We are sick and tired of the traffic. The traffic can start from 5am. We are all tired. We are crying for government to fix the road for us or else we will march to the Flagstaff House. Enough is enough," another lady said.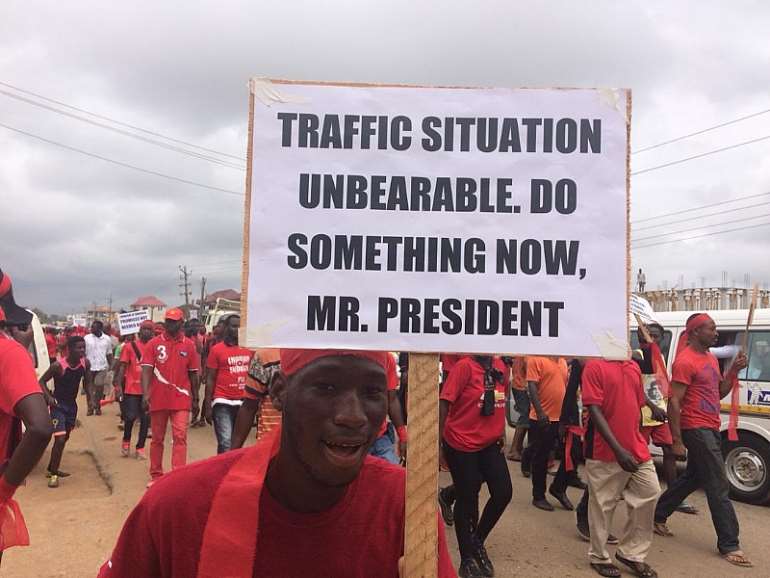 The Convener for Youth Coalition for Progress, Maxwell Amofa Boama who led the protesters said that they will boycott the 2020 elections if nothing is done about the roads.
"My main concern is about the traffic. We are facing a lot of traffic jam on this stretch so because of that, majority of the cars turn to use the auxiliary roads. Those roads are dusty roads that are causing a lot of sicknesses. Asthmatics are dying. Armed robbers are attacking people on that stretch each and every day."
"The government should come and fix the roads for us. We've had enough after twelve years of frustration. Each year, each government comes to tell its own story. In 2008, Seth Tekper stated that the road is 98% completed. Does this look like it's been 98% completed? The government is deceiving us. They should remember there are 2020 elections. They should come and fix our roads, or we'll advise ourselves in 2020," he said angrily.
The protesters had wanted to present a petition to the Municipal Chief Executive and the Ashanti Regional Minister but they were not available to receive it.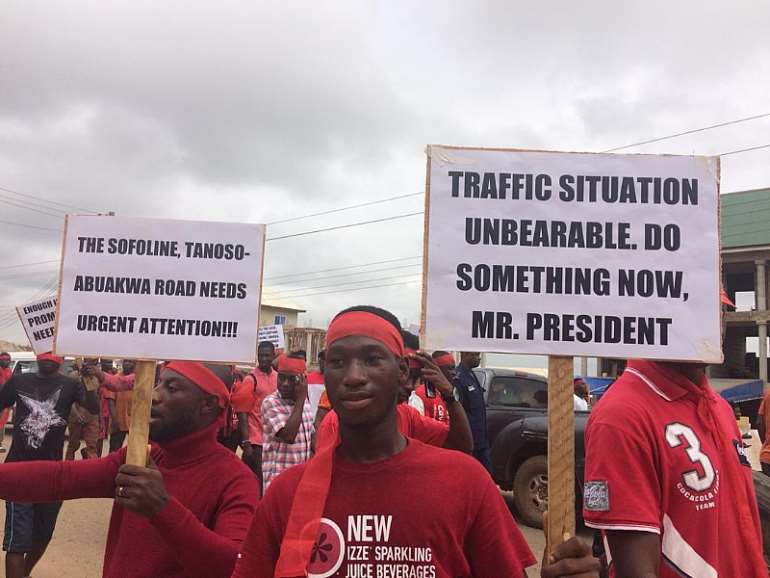 ---citinewsroom