Peace Is The Bedrock To National Development—Dr Bin Salih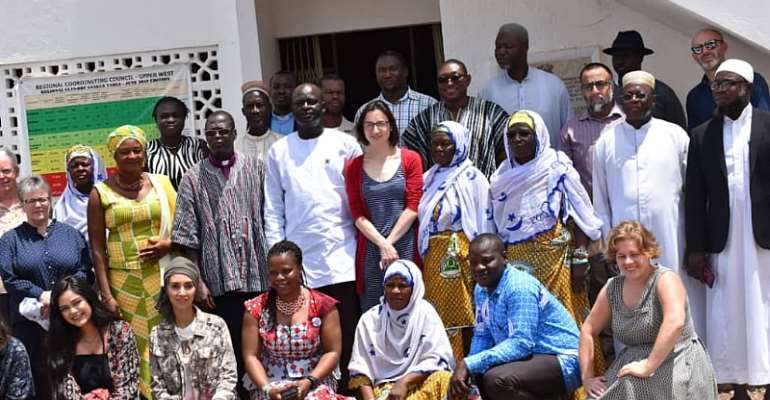 The Upper West Regional Minister, Dr. Hafiz Bin Salih, has underscored the importance of peace and unity for the development of every nation, emphasizing the need for interfaith co-relation.
He said, for instance, that, the 1992 constitution of Ghana, which was a circular nation, had provided for freedom of worship as a right of every Ghanaian.
Addressing a team of interfaith advocates from Scotland when they called on him at his office, Dr. Bin Salih explained that there was a peaceful and harmonious relationship between the Christian and the Muslim communities in the country over the years.
The team was in the Upper West Region to interact and hold discussions with their counterparts in the region.
The Regional Minister intimated that there was an excellent relationship between the two factions in the region with a high level of toleration of the two religions, even within a family.
Dr. Bin Salih, however, observed that though there was religiously tolerant, there should be no room for complacency, but rather there should be continuous public education and sensitisation on the need for peaceful coexistence.
"I know and appreciate the works of the Christian-Muslim dialogue committee in the Upper West Region. Over the years, they have contributed in ensuring that there is religious harmony between and among the religious groups in the Upper West Region", he said and pledged his support for the course when the need arises.
The leader of the team, Madam Vernie Chinembiri, of the Church of Scohana Interfaith in Scotland, explained that the church was promoting peaceful Christian-Muslim relationship and appealed to the public to see each other as "brothers and sisters".
She said the team represented different categories of people with different backgrounds including the academia, civic and society and gender issues.
Madam Chinembiri commended the Regional Minister and his team for the warm reception offered to them in the region.