Involve Traditional Authorities In Water Resources Preservation – IRC Country Director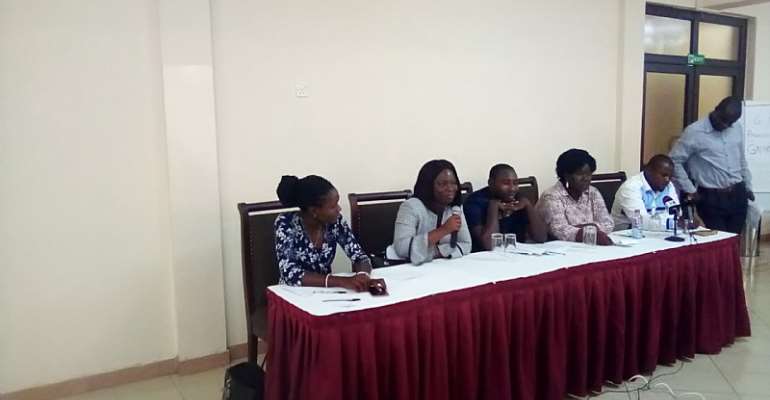 The Country Director for International Reference Centre (IRC), Vida Duti has made a call on all and sundry not to leave out the traditional authorities in the preservation of our water resources.
Speaking at a media dialogue series on Water, Sanitation and Hygiene (WASH) and Water Resources Management (WRM) at the Coconut Grove Regency Hotel, she said present leaders must revisit the method which was adopted by our traditional leaders in the olden days to preserve our water resources.
"We all need to go back to our roots in terms of how our traditional authorities were able to manage the preservation of our water resources very well as compared to our generation," she noted.
According to her, they shouldn't be left out in our effort to preserve our water bodies as day in and day out our activities continue to destroy the available water bodies to the disadvantage of the society in general.
Vida Duti indicated despite the researches and technological development, we are still struggling to find improved ways of keeping our water bodies as compared to the days of our primitive world where we were with little or no technology.
"Yet, we still did the needful through acceptable ways to preserve our water resources for our current generation to come and meet. So we need to put in more effort in this call by involving our traditional authorities as well," she emphasised.
On his part, Dr. Mawuli Lumor of Water Resources Commission suggested the establishment of a dedicated court to address environmental issues,that will in effect go a long way to protect the environment and all resources.
Mr. Michael Johnson, Engineer at Tarkwa Nsuaem WASH indicated the issue of law enforcement has not yielded positively towards the preservation of our water resources.
He supports the call to involve everybody and not limited the fight to only few individuals and identifiable authorities.
He urged everyone to be vigilant and monitor those whose activities have the potential of destroying our water bodies and take the necessary steps to report offenders to the appropriate authorities for the law to deal with them.
Veronica Ayi – Bonte, Programme Manager for IRC added that there is the need to prioritize advocacy issues and financial challenge in the area of organizing meetings, educating the public among others.
The participants at the forum includes Dr. Mawuli Lumor from WRC; Janet Arthur, Nederland Embassy; Michael Johnson, Tarkwa Nsuaem WASH; Mercy Amonkwandoh, Project Coordinator for Hope For Future Generations (HFFG) and Nafisatu Yussif of Solidaridad.
The rests were Vida Duti and Veronica Ayi – Bonte, Country Director and Programme Manager respectively for IRC Ghana.