'Be Responsible Citizens, Report Corruption Cases To The Police' — ACP Acquaye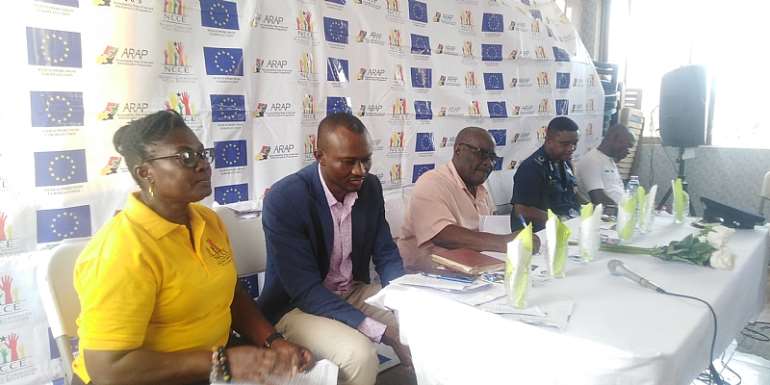 At a one day Community Durbar on Public Accountability and Environmental Governance organized by the National Commission on Civic Education (NCCE), Divisional Commander of Police at the Nima Police Station, ACP Abraham Acquaye has challenged Ghanaians to report all forms of corruption to the appropriate authorities for action.
According to him, although corruption is prevalent, he is confident it can be eradicated when the populace joins hands in fighting the menace.
Speaking on the theme "Whistle Blowing Mechanism and Anti-Corruption; The Role of the Citizenry", the Assistant Commission of Police said "We can fight it even though corruption is endemic in our communities, we can deal with it".
He added that Act 720 of the Whistle Blowers Act of 2006 outlines who, when, where, how and why an individual is qualified to blow the whistle.
ACP Acquaye further revealed that if the citizenry adheres to the tenant of the Whistle Blowers Act, corruption will be a thing of the past.
"Public Education is the way to go. A lot of people are ignorant and unaware that there is a fight against corruption in Ghana," he stated.
He challenged Management of the NCCE to embark on robust educational campaign to keep people abreast with issues happening in the country and also know their rights.
In her welcome address, Head of NCCE at the Ayawaso North Municipal Assembly, Eunice Nkrumah disclosed that as part of Accountability, Rule of Law and Anti-Corruption Programme (ARAP), the firm will undertake focus group discussion across the country.
"The ARAP will create awareness and promote good governance by reducing corruption and improve accountability compliance in the rule of law. Anti-Corruption Institutions must make their deals accountable to the citizenry," she posited.
An officer at the Commission on Human Rights and Administrative Justice (CHRAJ), Roger Amane tasked citizens to speak out whenever they see anything unusual in the locality to the Police for swift actions.
"It is about time we put aside political favoritism. All hands must come on deck to ensure we build a better Ghana. Let us be vigilant and watch around. Do not be afraid to report wrongdoers," he emphasised.
Mr. Amane disclosed that CHRAJ is partnering with the Ghana Police to maintain law and order among the citizenry.
Health Expert at the Environmental Health Unit, Isaac Wakah called on residents living in the Ayawaso North Municipal Assembly to also reports people who cause havoc to the environment.
He added that these harmful activities also affect the ozone layer which has health implications on citizens.
Mr Amane charged landlords/ladies in the Municipality to build toilet facilities for tenants as well as provide waste bins to avoid any outbreak of diseases and other health-related problems.
The programme was supported by the European Union (EU).
Joshua Kobby Smith
Journalist