Aker Energy Scholarship For Tertiary Students In Western Region Coming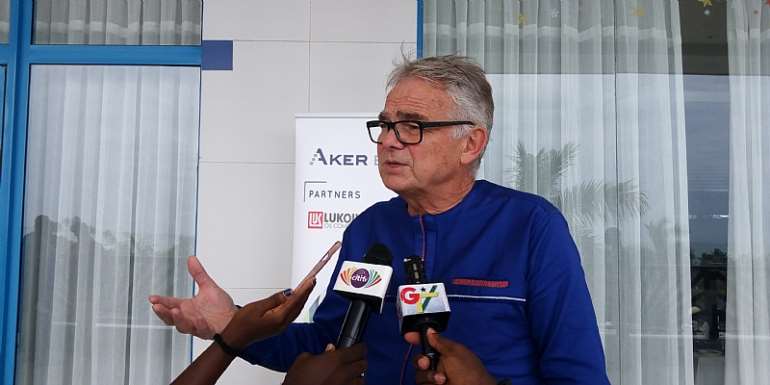 The General Manager of Aker Energy Ghana Limited, Jan Helge Skogen has said the company is poised to establish a scholarship programme for students at tertiary level.
The company is currently providing scholarships to brilliant but needy students in the seven coastal Districts in Western Region to further their education at the secondary school level.
The Districts that are hosting the country's oil and gas activities Ellembelle, Nzema East, Jomoro, Ahanta West, Shama, Effia-kwesimintsim and Sekondi-Takoradi.
Over the weekend, Aker Energy in collaboration with GNPC awarded scholarships to 200 brilliant but needy students in Western Region to further their education at secondary school.
Aker Energy is an upstream petroleum company operating the Deepwater Tano/Cape Three Points oil block that is located offshore Ghana.
The company has a 50 per cent participating interest in the Deepwater Tano Cape Three Points block, covering approximately 2,010 square kilometres in a prolific petroleum region approximately 70 miles offshore Ghana.
Aker Energy's mission is to build the oil and gas operator of choice offshore Ghana by maturing resources in a safe, efficient and reliable manner to the mutual benefit of company partners and the people of Ghana.
And as part of its Corporate Social Responsibility (CSR), the company has been awarding scholarships to brilliant but needy students in these coastal Districts where they are operating.
Presenting scholarships to two hundred brilliant but needy SHS students over the weekend at Best Western Atlantic Hotel in Takoradi, the General Manager of Aker Energy Ghana Limited, Jan Skogen said the company was happy to celebrate 2016-2019 beneficiaries who performed well in their WASSCE.
He said "I am happy to be at the inauguration of a new set of students selected to benefit from the Aker Energy-GNPC scholarship from 2019–2022".
According to him "This Scholars Programme is presently the flagship social investment project of Aker Energy in partnership with GNPC. The programme started in 2012 and have to date benefitted almost 800 students".
He, therefore advised the beneficiary students to learn hard and think beyond secondary education by setting their goals on graduate and post graduate education.
"To the students here, each of you has worked hard to pass the Basic Education Certificate Examination, but that is only the first step of your academic journey. Think beyond secondary school, by setting your goals on graduate and post-graduate education", he said.
"Last month, about 40 of the 120 beneficiaries who graduated from secondary school had 5As in 8 subjects. Indeed, it is because of such high academic performance that Aker Energy and our partners are encouraged to continue to support the scholars programme", he added.
The General Manager reaffirm the company's readiness to establish scholarship programme for students at the tertiary level from these coastal Districts in the Region.
He said this scholarship programme would also benefit students who have already benefitted at the secondary school level.
"You have heard this before, but it is worth repeating that Aker Energy has plans to develop a tertiary level scholarship so that students we are supporting now can look forward to continuing their education to the tertiary level", he told the beneficiaries.
However, Mr.Jan Skogen disclosed the company's vision to the gathering and said the company intended to build technical human resource required for the oil and gas sector.
He added that "We have demonstrated this with our financial support to the Accelerated Oil and Gas Capacity Building Programme (AOGC) that builds capacity of Ghanaians in technical areas (like welding, pipe-fitting, electricals, roustabouts and crane operators), support officials from government for higher education, and support start-up companies."
"I would also want to thank the selection panels who spent hours interviewing hundreds of students to settle on 200", he acknowledged.
He continued, "I am informed that this year, there were over 960 students competing for the 200 slots. In addition to the academic requirements in selecting these 200 beneficiaries, we ensured there were gender, geographical and disability considerations."
On her part, the Director in charge of Secondary Education, Ministry of Education, Miss Angela Tena Mensah, thanked Aker Energy Ghana Limited and GNPC for supporting these brilliant but needy students in the region.
She advised the beneficiary students to take their studies seriously to make the sponsors very proud.
Miss Angela Tena Mensah advised teachers, parents and stakeholders in education to focus more on discipline and moral training of students to make them responsible leaders in future.
She used the opportunity to appeal to Aker Energy and its partner to increase the intake next academic year.
On his part, the Paramount Chief of Essikado Traditional Council, Nana Kobina Nketsia expressed his profound appreciation for the kind gesture offered to these students in the region
He said they must acquire acknowledge and continue to seek whenever necessary since consciousness can only be realized through knowledge acquisition.
"Never give your consciousness to anybody...develop an independent mind and that's why I am happy about this Aker Energy opportunity to grow brains that would contribute positively to society", he said.
He therefore, seized the opportunity to advise the beneficiary students to make good use of the knowledge been acquired in order to become successful citizens in the region.
Criteria for selection
Scholars are selected through an application and interview process supported by the District Education Directorate (DED).
Criteria for selection is based on BECE scores, a personal statement from prospective scholars, chosen program, family situation and gender
Shortlisted candidates are interviewed individually by a panel comprised of representatives from the District Assemblies, District Education Directorates, District Parent Teacher Association, Fishermen Association and Traditional Council.
This year, Aker Energy and GNPC received over 960 applications and 200 were selected. There were 108 females and 92 males and among the beneficiaries, two were physically challenged.
Packages
These beneficiaries apart from benefiting from the Akufo-Addo-led government's Free SHS flagship program, would receive one-off items in the year.
The items include; one metal trunk, one wooden chopbox, four padlocks, one student-size mattress, one pillow, two bedsheets and blanket, one packet of mosquito netting, one back-pack, one pencil/pen case and one water bottle.
According to Aker Energy-GNPC Scholars Programme, every semester, these beneficiaries will receive the following items; one packet of washing powder, six bars of washing soap, six bars of toilet soap, two toothbrushes, five rolls of toilet paper and six-packs of sanitary pads for girls.
They will be given 20 exercise books, elective subjects textbooks, one calculator and pens/pencils/erasers.
Apart from the above items, these beneficiaries would receive pocket money every semester for other items considered essential.
They include milk powder, powdered chocolate drink, biscuits, canned protein (sardine, mackerel, tuna), sugar, gari and shito.
Each year, Aker Energy and GNPC would organise two career guidance seminars for the beneficiaries in their final year. These seminars would enable them to understand the subjects at the tertiary level and career choices thereby improving the overall quality of their learning experience in senior high school.
Statistics
The district breakdown of beneficiaries for 2019 are as follows; Shama (32), Sekondi-Takoradi (27), Effia-Kwesimintsim (21), Ahanta West (34), Nzema East (18), Ellembelle (28) and Jomoro (40).
Over the years, the Scholars Programme has progressively increased intake of students, see the annual intake below;
2012 (71), 2013 (100), 2014 (100), 2015 (125), 2016 (125), 2017 (125), 2018 (150) and 2019 (200).
Daniel Kaku
Western Regional ContributorPage: DanielKaku