Crossing Rubicon to grabbing diamonds: the case of Ghana at WorldSkills, Kazan 2019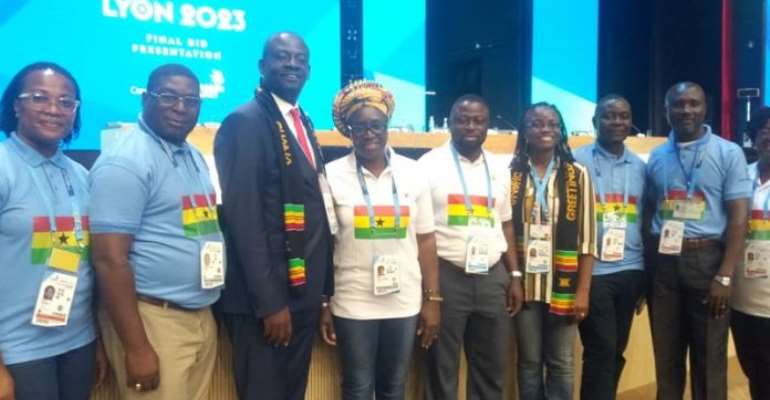 On 18th June, 2019, WorldSkills International (WSI), the global body which organizes skills competitions "to raise the profile and recognition of skilled people, and show how important skills are in achieving economic growth" announced that Ghana has been accepted as its 81st Member.
Ghana was also outdoored officially by the organization at the 45th World Skills Competition in Kazan, Russia.
Many would, however, ask what are the benefits of joining such an organization as a country?
It is prudent to look at what the organization, WorldSkills International says about being a member and why they hold skills competitions in attempt to elucidate the said benefits.
According to the organization, "WorldSkills Competitions are the gold standard of skills excellence. They inspire young Competitors to reach new heights, helping them turn their passion into a profession." That is, by being a member of WorldSkills, Ghana can present young people who are in skills training to compete with others globally and therefore measuring our skills levels with that of the world.
This would also inspire more young people to opt for skills training because they make skills acquisition aspirational.
The specific benefits of Ghana joining WorldSkills are;
SKILLS PROMOTION
Ghana would gain access to the world's leading network of organizations promoting skills training. Membership of WorldSkills would give us the platform to learn best practices about how other countries and regions are attracting young people to skilled careers.
Ghana will also be able to adopt the WorldSkills brand, which is recognized by partners and stakeholders who are committed to skill development around the world. Furthermore, we can use WorldSkills initiatives to accelerate the promotion of skills and become champions within our own country/region of the WorldSkills brand. Finally, we would get access and usage rights to WorldSkills intellectual property, resources, photos, videos, social media, marketing, and communications tools.
CAREER BUILDING
Membership of WSI will inspire and attract the new generation of skilled professionals to discover the relevance and importance of skills.
Additionally, we can invest in the development of skills excellence in Champions, as an example of the opportunities available to skilled individuals. Moreover, we can use local and national competitions as the stepping stone to a once-in-a-lifetime experience for young skilled professionals to represent their country/region on the world-stage. Finally, we can connect the youth of our country to initiatives that create global citizens, and provide a platform to apply their talents and skills to create social impact.
EDUCATION AND TRAINING
One of the major benefits of joining WSI for stakeholders like Ministry of Education (MOE) and the Council for Technical and Vocational Education and Training (COTVET) is that we can gain knowledge on training systems and practices around the world, to develop new and innovative ways of teaching in-demand skills. Also, we will gain access to the WorldSkills Standard Specifications, which offer industry best practice and what a capable practitioner must know, understand, and do. Finally, individual experts connected to each skill gains access to an international community of authorities in their field, accelerating their understanding of global trends in education and industry.
INTERNATIONAL COOPERATION AND DEVELOPMENT
Membership of WSI means that Ghana would gain tools to demonstrate the importance of skills training for economic development and join an existing community that is interested in supporting new and developing Members. Also, regular events, conferences, and programmes, that accelerate Members connection to the global TVET community and thought leaders, identifying emerging trends in skills development. Finally, Ghana would establish connections to the world's largest network of TVET leaders.
RESEARCH
Our membership will also mean that we have a connection to information, facts, figures, and news on skills of today and the future. Also, we have access to research on skills competitions, as a proven model of strengthening national skills development. Moreover, there is regular benchmarking of skills required by professionals within more than 50 skill competitions by WSI. Finally, WSI conducts analysis of emerging professions and skills of the future.
SKILLS COMPETITIONS
As already indicated, the flagship programme of WSI is the WorldSkills Competitions which will provide the country connections, as a peer, to the largest network of organizers of skills competitions in the world.
Also, WSI membership is a platform for Ghana to showcase the young skilled professionals of our country on the global stage to compare the skills being taught in our country against the highest global benchmark.
Furthermore, it will accelerate the establishment of local competitions by utilizing WorldSkills' competition projects, infrastructure lists, and judging criteria, in order to enhance your own national system. Finally, we would have access to state-of-the-art tools to host local competitions.
These are exciting times for the TVET sector in Ghana and steps should be taken to further consolidate the gains which have been made in the sector for economic prosperity and job creation.