Danger: Ghana Police Service Sits On Ticking Bomb As Culture Of Silence Cage Officers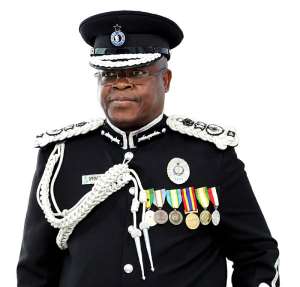 The Ghana Police Service is languishing in steep culture of silence and for many officers across the West African Country Ghana this poses a dangerous phenomenon that could spark rebellion if not dealt with immediately.
Sample opinion conducted by MO Africa UK among officers randomly across the country in twelve units in the service revealed distressing trend with potentially severe consequences for the service with ticking time.
"You cannot raise a legitimate concern for fear of victimization. How can you work 12 hours continuously for 7 solid days without a day-off and be expected to deliver professionally free of defects," an officer said.
Another officer indicated that when application for leave is approved at some point in time, the Commander-In-Charge reserves the authority to disregard your stated period of request which is always the case.
The officers who spoke unanimously during an interaction with MO Africa UK said the police hierarchy need to revise the administrative structures to encompass a broad consideration for the total welfare of officers.
"Our work is risky. I leave home every day prepared for any eventuality as we are dealing with criminals who sometimes have sophisticated weapons we lack," they said.
"The so-called big men especially the politicians and senior public officers are the most disincentive culprits to our work. When you arrest a lawbreaker on allegation of crime, a "big man" will quickly place a call and demand for a release. They frustrate our work. Tell me can an ordinary guy somewhere call a police officer on duty to demand a criminal to be freed," an officer quizzed.
"The law must apply evenly but unfortunately this is not the case in Ghana. Our superiors are fully aware," the officer added.
The officers we engaged proved professional by not volunteering security information which they said could be detrimental to the service but did say however there are many threatening issues choking them.
Our deductions show lapses in the entire Ghana Police Service structure beginning with recruitment, training, welfare and lack of resources for operational duties.
The Ghana Police Service is a single cohesive unit, organized on national basis with a unified command under the leadership of the Inspector General of Police.
The Police Service is tasked with a mission which includes; the protection of life and property, prevention and detection of crime, the apprehension and prosecution of offenders, the preservation of peace and good order as well as the enforcement of all laws or Acts, Decrees and other regulations with which it is directly charged.
Formed as Gold Coast Police Force in 1894 and later changed to Ghana Police Service after independence in 1957 has over 30,000 officers in more than 650 stations across Ghana under 15 units.