UWR: RCC Committed To Meeting Airport Requirements For Smooth Inauguration ― Minister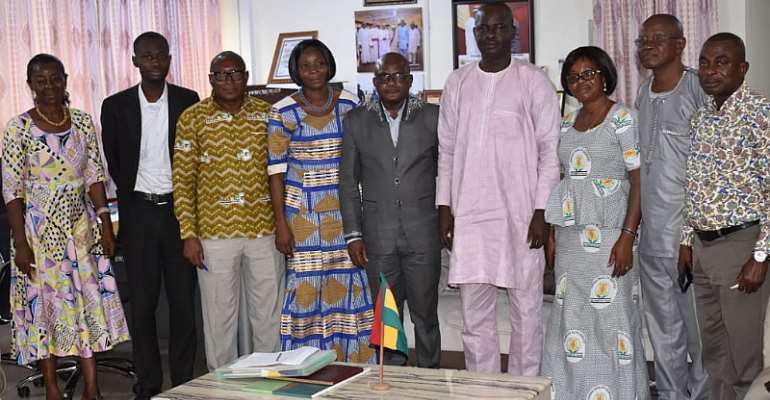 Dr Hafiz Bin Salih, upper west regional minister, has reiterated his resolve to ensuring that the necessary requirements needed for the Wa Airport to launch its first-ever commercial flight come October 15, 2019 are met.
He said the successful operation of the Wa Airport would be to the advantage of the people of the region as would help attract investments to the region for rapid and sustainable economic growth.
According to him, the days of long travel hours will be over with the introduction of this air transport service.
"Once it is operational it's the people of the region who will benefit from it most, and we are here to serve them so whatever we have to do to ensure the operation of the facility will be done", he said.
Dr Bin Salih stated this when the management of the Tamale Airport in the Northern Region called on him at his office to chart favourable paths for a successful operation of the airport.
It could be recalled that the Ministry of Aviation announced in a press statement that the Wa Airport would start commercial flight on 15th October, 2019, by the Africa World Airline (AWA).
The Minister said some development partners who visited the region complain of the long distance they had to travel and said the new Wa Airport, when commissioned, would bring relief to people travelling in and out of the Upper West Region.
"A lot of people come here and they express the desire to use the facility, so with this opportunity, I believe that a lot of people will come to the region.
We have our development partners who come to the region and they always express their frustration having to travel more than 12 hours from Accra to Wa, so with this development, I believe that it will open a lot of doors", he intimated.
Mr Michael Omane, Manager for the Tamale Airport, offered a dedicated ambulance for the Wa Airport, a shuttle to transport passengers to and from the flight, dedicated fire truck and uninterrupted electricity and water supply as some of the primary requirement needed for the facility to operate.
He also noted with concern, the indiscriminate construction of houses close to the airport, saying it was not safe to do so.
Mr Omane noted that the facility was a security zone and as such certain activities would not be allowed there and thus appealed to the Regional Minister to intervene to secure the area.