Cinefile September 2019 - Port Authority, Du Sable et du Feu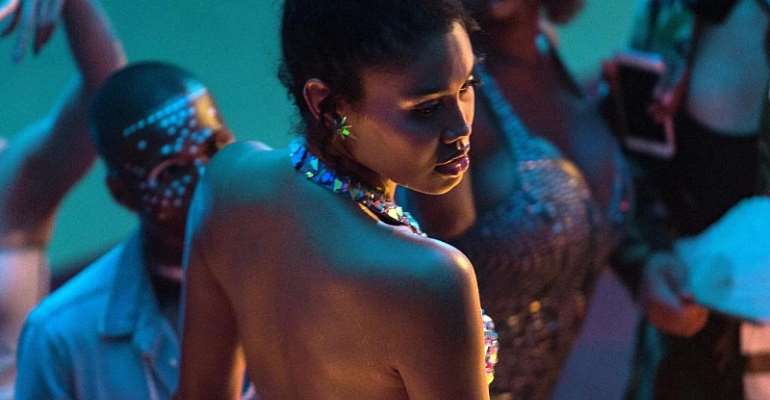 In this month's early autumn Cinefile, Rosslyn Hyams meets director Danielle Lessovitz and her leading actress Leyna Bloom to talk about Port Authority. Director-Producer Souhail Benbarka's Du Sable et du Feu, is a love story, and a cloak and dagger story, based on 19th century true-life characters embroiled in international conflicts. Click on the arrow in the photo to listen to Cinefile.
Port Authority
Lessovitz' début feature was nominated for an Un certain regard award at Cannes in May as well as a wave trophy at the Deauville American Film Festival in September 2019.
She sets her love story between Wye, a transgender woman (Leyna Bloom), and Paul (Fionn Whitehead) a down-and-out young white man who lands in New York, at Port Authority bus station, homeless, friendless, but mildly charming.
Lessovitz confronts the two. She, although strikingly beautiful, is a misfit according to the mainstream population. He, because he's poor and naive, is also a misfit in a society which measures success on how much you have in your pocket and your address.
Her family is the 'ballroom-voguing' family, with its strong mother role. It's more than a club who like dancing and dressing up, they all look out for each other and form a community. His family is a step-sister who slams the door in his face.
Their seemingly impossible love story convinces in streams of fashionable colours and simple but poignant dialogue.
Lessovitz says her film celebrates, "the family that's chosen," against the inherited parents, siblings and other relations.
Love does triumph in this film.
Du Sable et du Feu (Of Sand and Fire)
Souhail Benbarka's fourth feature, an epic-style historical romance co-written with Bernard Stora, hit the screens in France and elsewhere this month.
It stars Rodolfo Sancho as a Spanish spy, Domingo Badia, sucked into in a plot that involves French emperor Napoleon.
He plays opposite and sometimes very closely with Carolina Crescentini as the English noblewoman, as Lady Esther Stanhope who falls in love with Prince Alibey, the man Badia pretends to be.
Things of course go wrong for the handsome couple and their burning passion. They get a taste of power and it drives them crazy and drives them apart.
The film spans 16 years from 1802 to 1818. Lady Esther, a favourite at the court of George III and the niece of his prime minister, turns into a blood-craving religious fanatic converted to Islam after falling in love with the alleged Syrian prince. A prophecy made in her youth said she would become one day queen of Palmyra. So that's what she does.
Badia is recalled from his dangerous mission to organise the overthrow of the Sultan of Morocco by tribes from the north, just when he starts to believe he should replace the sultan himself. Damn he thinks as with bared teeth he smashes all the glass and wood he can lay his hands on to overcome his frustration.
Stanhope, transformed from genteel English rose to warrior-queen Meliki, bares her teeth when screaming at her many troops to "kill the infidel". In a dramatic speech, she  explains to Badia who she sees now as her enemy, that they don't worship the same allah.
Spanish actress Marisa Parades of Almodovar and other fame plays Meliki's lady-in-waiting. Dutiful Mrs Williams whisked away from pastures green to the middle of the desert.