Tarkwa; Journalists Urged To Strengthen HIV And AIDS Awareness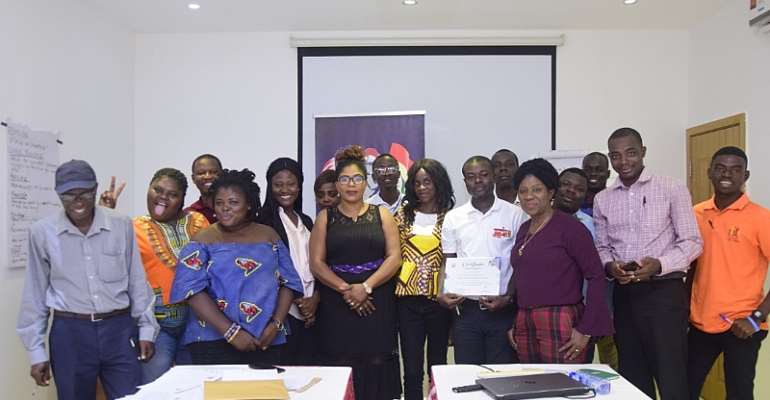 The United States President's Emergency Plan for AIDS Relief (PEPFAR), in its bid to see HIV and AIDS managed, has encouraged the media to push for more awareness on the HIV and AIDS.
This is because, the zeal in which the media used in creating awareness about the reality of the condition, has waned.
PEPFAR believes this does not auger well for the HIV and AIDS awareness campaign in Ghana.
Speaking at a two-day training workshop for journalists in Tarkwa Thursday September 19, the representative of PEPFAR Mrs. Dzid Kwame was of the view that, journalists have watered down the zeal in reporting HIV related cases and needed to revisit it.
She stated "journalists today are not so much concerned about HIV and AIDS. Because thanks to ARV, people are living longer and are not showing the AIDS symptoms. But because HIV still does not have a cure it is not something we can put on the back burner. We still have to educate people."
Mrs. Kwame also reiterated the need for journalists to constantly remind Ghanaians of the condition and why one needs to know his or her status.
"We still have to be conscious of the fact that, since we have no cure it could deplete labour. Because if you are sick, you cannot work effectively to earn an income and be able to take care of yourself and your loved ones."
The PEPFAR Representative in furtherance mentioned that, her outfit with other partners such as the Ghana AIDS Commission, have adopted the UNAIDS fast track goal of 90-90-90.
"Not too long ago we adopted what we call the UNAIDS fast track goal of 90-90-90 and it's very simple. It means we are expecting that by the year 2020 which is next year, 90 percent of Ghanaians will test to find out whether they have HIV, the second 90 stands for the fact that, those who test and are found to be positive, be put on treatment and the third 90 means that, when you are put on treatment, your viral load will be suppressed. At this stage you will not be able to transfer the virus onto someone," she explained.
With this agenda, Mrs. Kwame believes it can only be achieved when the media is involved in educating the masses and creating the awareness of its existence.
HIV Consultant Golda Asante, provided statistics of the condition in Ghana, and walked journalists at the workshop through the terms that must be used in reporting HIV related cases, to avoid creating fear among the populace which may advance stigmatization.
The workshop was organized by PEPFAR, US Embassy in Ghana and the African Centre for Development Reporting (ACEDEV)
PEPFAR which is spearheaded by the United States Government seeks to address the global HIV and AIDS epidemic and help save the lives of those suffering from the condition.
Kojo Fletcher
Western Region CorrespondentPage: KojoFletcher