AMA Traffic Guards Allegedly Beats, Hurt Uber Driver At GIJ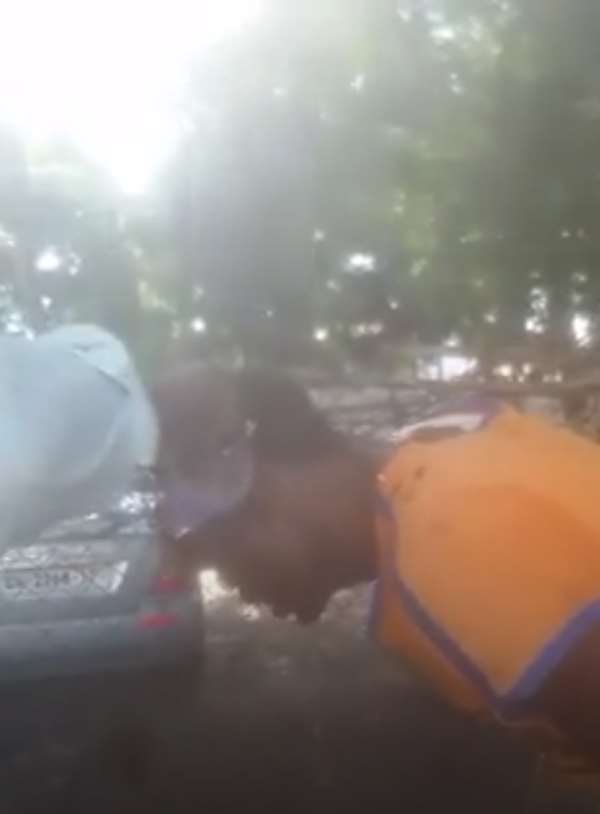 A group of men believed to be members of the Accra Metropolitan Assembly traffic guards have seriously injured an Uber driver at the entrance of the Ghana Institute of Journalism (GIJ).
The incident occurred at around 4pm on Tuesday,24th September 2019 when an Uber driver parked around the entrance of the campus.
The said traffic guards according to eyewitnesses were at their usual hideout around campus to continually harass innocent drivers who come around to pick up students.
The incident
Live video footage available on Facebook indicates that the Uber driver came to pick up a student who had requested his service.
He was however met with the unfortunate incident when the said guards rushed to clamp his car tyres.
In an attempt to interrogate the guards and explain issues to them, one of the guards (unidentified) head-butted him in a rambo styled which swept him off his foot.
The Uber driver in the process sustained multiple degrees of cuts on his upper left eyebrows, with blood oozing and staining his T-shirts.
Several students and vendors who were around stood in utmost shock as they expressed utter disgust at the incident.
A student of GIJ, who identified himself as Shapiro, narrated that the heavily built AMA traffic guards seem to have planned the operation after they mounted surveillance on him en route to GIJ.
Security men in GIJ could not hide their frustration either, as they struggled to wrap their heads around the manner in which drivers who come to pick up students are continually harassed and mishandled by these AMA guards.
Driver Harassment in GIJ
The incidence of harassment of drivers along the entrance of GIJ has been a major problem. Drivers who work along the GIJ-Parliament road could pour out their frustrations over the constant harassment by AMA guards.
Watch video here: