Rwanda Puts Behind Horror History To Be The First Country In Africa To Make Smart-phones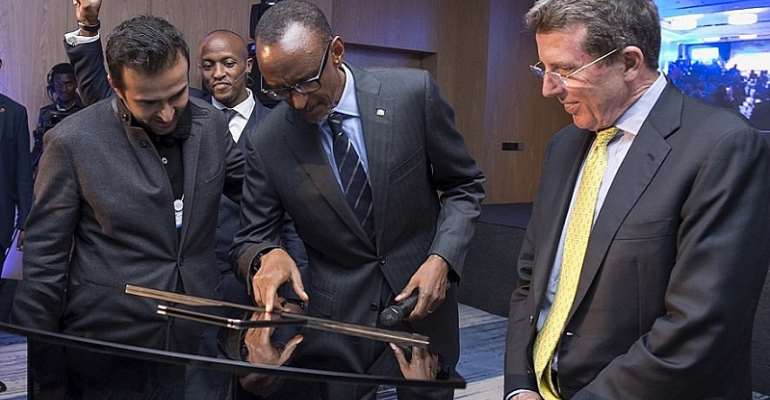 The colonialism treasures of Africa became the territory of production of mining and agricultural goods fundamental for the European economy. Europeans decimated and underdeveloped Africa to create a buoyant economy and employment for its citizens without any plan to develop the continent.
As we know, Africa has remained a sort of black hole that the media have told from time to time with the stereotypes of hunger, wars, coups d'état, drought, famines, thus; as a continent that needs help but for how long will Africa depend on the developed world?
Today, putting all the man-made barriers behind, some African leaders are really determined to change the bitter story of the continent to a beautiful and interesting story through the development of modern technology.
Things are rapidly changing in Africa and it is likely that Rwanda will be the first African country to produce smart-phones entirely made in Africa.
The new production facility whose establishment was the result of an agreement between the Ugandan government and the Mara Corporation will employ almost 20,000 Ugandans, to produce the first smart-phones, specifically designed to meet the demand of the local market. The production began since April 2019.
As ambitiously announced by the founder of the Mara Corporation, Ashish Thakkar the goal is to make the Mara Phones the equivalent to Huawei or Xiaomi of China.
Mara phones will be among the first devices to use Android Oreo, an operating system optimized for applications such as YouTube Go, Facebook Lite and Twitter Lite, specifically designed for the African market.
Among the plans of the Mara Corporation, there is also that of establishing a second production plant in South Africa, while in the long term the intention is to produce competitive phones even for more mature markets, including the European one.
The Mara Corporation is an African group-based in Kigali, Rwanda, which started from a small IT company and quickly employed over 14,000 people in 26 African countries, in sectors ranging from technology to financial services and energy.
In December 2016, as many as 277 million mobile money accounts were located in the sub-Saharan region. Now in Kenya, Tanzania, Zimbabwe, Ghana, Uganda, Gabon, and Namibia more than 40% of the adult population owns and manages a small financial account on their mobile phones.