Egypt Select Five Ghanaians For Leadership Program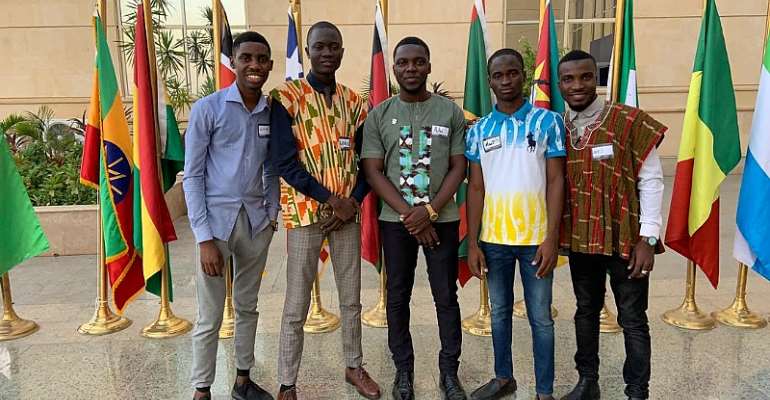 Five Ghanaians have been selected by the Egyptian National Training Academy to participate in the batch two of the "African Presidential Leadership Program (APLP)."
The five Ghanaians, Usman Ibrahim Khalilulahi student IBM&J - Founder Asawase News Agency, Adu Richard, Student of KNUST,CEO PRIMAG AUTO UPHOLSTERY — Ahmed Jamaldeen Yahsir CEO WeFixIT, Samuel Osborn Kwame Adamtey Co- founder of CoveRx and Mohammed Muhib Maazin Student UDS - Founder of Self-worth Elevated — would join other young African leaders for an intensive six weeks program in Leadership, competency, and skills.
"We are young leaders and African Presidential Leadership Program is networking and bridging us together. African Leaders today and tomorrow" said Mr.Yahsir one of the Ghanaian participating in the program.
"Today we start our journey together, a journey of knowledge to bring all our diversities and all our strengths under one umbrella towards a shared goal of development & peace for our Africa," explained Dr. Rascha Ragheb, Executive Director of National Training Academy in a statement.
Dr. Ragheb continued, "Together there are no boundaries, no restrictions and no pressures, just us, humans sharing one dream for brighter tomorrow. I am pleased to welcome you to our APLP family whom we strive to protect and grow bigger & bigger each day."
Africa Presidential Leadership Program
As stated on the National Training Academy website, "The idea of the "African Presidential Leadership Program" (APLP) was launched as part of the implementation of one of the recommendations of the 2018 World Youth Forum and coinciding with the 2019 Egyptian Presidency of the African Union.
The program aims at bringing together African youth with different affiliations and beliefs under one umbrella aimed at development and peace, complementing Egypt's role in effective participation with other African governments. The program is designed to give more than 1,000 young people from Africa a chance to participate in 10 sessions of 100 young African people each.
APLP aims to bring together African youth with different affiliations and backgrounds under one umbrella towards development and peace.
The topics covered under the APLP program revolve around six main pillars which are:
1. African Opportunities and Challenges
2. Economic and Sustainable Development
3. Women Empowerment and Gender Equality
4. Management & Leadership Skills
5. Information Technology, Innovation and Learning Cities
6. Design Thinking
Besides the state-of-the-art program design and tackled topics, a set of activities are scheduled to add to the richness of the program, including; Field-trips , cultural events, Site-seeing tours and Sports activities."