ECONET Founder And Chairman Meets Dr Thomas Mensah At AGRF Conference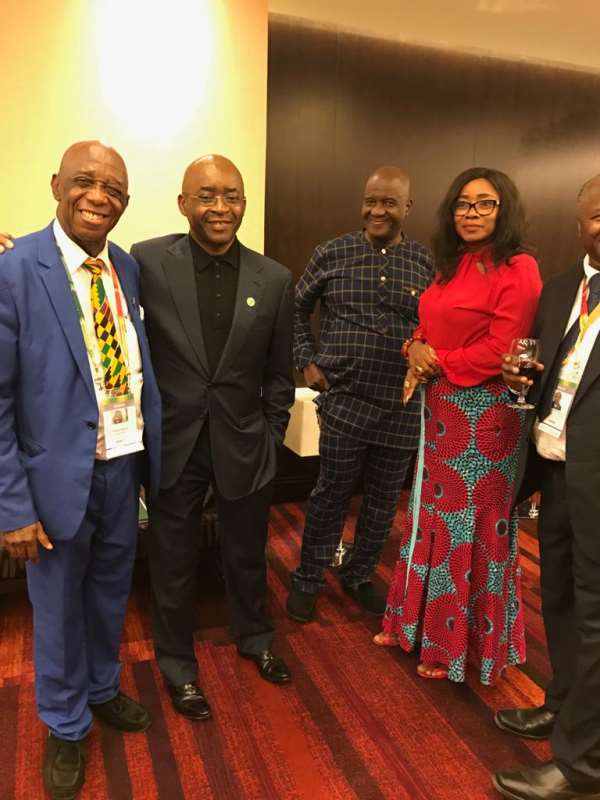 The Famous Fiber Optics Inventor met with Mr. Strive Masiyiwa, Chairman and CEO of Econet at the Agricultural Green Revolution Forum in Accra.
The late Secretary Kofi Annan appointed Mr. Strive Masyiwa to succeed him as Chairman of AGRA which organized the recent AGRF Conference in Accra.
He is the Founder and Chairman of Econet a very successful Telecom and Broadband Internet Company in Africa.
During the Conference, Mr. Strive Masiyiwa and Former President of Nigeria Obasanjo presided over the Awards Program for the AGRF Forum at Kempinski Hotel. President Nana Akufo Addo congratulated the Awards
recipients at the Conference.
Dr. Thomas Mensah, Fiber optics Inventor has known Mr.Strive Masiyiwa for some time since they work in the same Internet and communication space. At the Green Revolution Forum, Dr. Mensah spoke on the digitization of Agriculture. He showed a smart watch, an Internet of things IOT device that can be integrated into the Ecosystem that supports the Digitizing Platform for Agriculture. This hand gesture-based device can be a game-changer in Agricultural processing plant in the Farm. The Smart watch uses Artificial Intelligence technology, Augmented Reality, and Virtual reality as well as Machine learning techniques.
Dr. Thomas Mensah also talked about drones that can look at a herd of cows and identify the ones that are about to give birth since the temperature of those cows are 10 degrees lower than the rest of the cows in the herd so that veterinarians can move in and assist them.
He discussed how drones can target areas of the farm that need fertilizers as well as pesticides, as well as irrigation so that it can spray the right amount of pesticides or start sprinklers for irrigation. All the data can be stored in the cloud and can be retrieved onto a tablet-like an Ipad, a laptop or other handheld devices for managing the digitization process in Agriculture.