Republic, Asantehene & Traditional Authority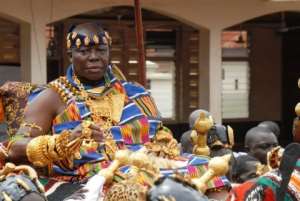 A REPUBLIC
In the British Commonwealth is a state that the Monarch is no longer its titular Head of State. The Gold Coast was created by the Crown of the UK and was governed on its behalf by the government of the UK. At independence, the UK government of lost its political control over Ghana, but the Queen remained the ceremonial head of state. The Queen lost her position when Ghana became a republic.
A STATE refers to the political organization or mechanism through which a nation is governed. A NATION refers to the social organization of a large group of people with a common ancestry, culture, language and occupying a common territory. The common territory is called COUNTRY.
A republic neither about Executive President nor a unitary state. In Asia, all the new republics from big India to tiny Singapore maintained their executive PMs and figured out how to replace the departing Queen. Interestingly, most are federal states.
As a new republic, Malaysia decided that the departing Queen would be replaced by the 9 provincial kings. Each king takes office as HoS for a single 5year term.
If anyone tells you that a republic is inconsistent with traditional authority, tell the person you dropped mythology as a subject in JHS. I know some who even in their old age, can't get this simple truth.
ASANTEHENE
He's the Occupant of the Golden Stool, the King and the embodiment of Asante, so you ''touch'' him and you touch everyone. The Golden Stool is the soul of the nation, like the Ark of the Covenant.
The psycho-emotional attachment of an Asante to the Golden Stool is akin to that of a Christian to the Cross. Both Christianity and Asante claim to be liberation movements; one delivered from the devil and the other from Denkyira. The recent ''febrile convulsions'' of some Asantes is telling. Beyond a certain temp, some Asantefuo lose control and go status epilepticus. Lol.
Asante isn't just the most organized social group in Ghana, it's the most studied and documented kingdom in black Africa. This is the double-edged that has created this mutual suspicion between some non-Asantes and some Asantes leading to unnecessary overreaction. Double paranoia galore!!
Though Asante has gone through many phases, I think, two that have diminished its influence are:
1. Ethnicization of the liberation movement
2. Politicization of the kingdom.
When a Movement reduces itself to an ethnic group and a political party in a multi-ethnic and a multi-party country, it feels attacked by those who oppose its political platform. If NPP is fighting NDC, what does ''akonta be se fom'' mean? It means NPP=Asante and NDC supporters anti-Asante. Is that good?
Otumfuo Osei Tutu II is making every effort to bridge the ethnic gap (the motto of ARM is bridging the gap) and to raise his throne above partisan politics. The widespread tantrums thrown by some of his subjects have set back the positive strides he's been making. At the durbar with the Awomefia of Anlo, he wondered where this enmity between Asante and Anlo came from. Well, from primitive politicians.
TRADITIONAL AUTHORITY
We love myth, don't we? We lack context and understanding, don't we? How else do we explain Ghana? In mythical Ghana, traditional authority =Asantehene and federalism=Asante nationalism.
Let's start from the basics.
In Australia, I don't know the name of my neighbour. When a child is tough, you call Dept of Human Services. When your mother gets old, you drop her in a nursing home. When she dies a funeral company buries her. In Ghana, all above and more are family matter.
The social organization of Ghana is different from social organization of Australia. Simple.
Nation-state is a political formation that derives its energy from its social order. This is the weakest link in our collapsing state. We can't have the same political system as Australia because our social organization is very different.
Democracy isn't elections. It's about decision making, development and prosperity of a community. It's the total activity of a community for its own survival and prosperity.
How can this be done?
My yet to be published book "Fanefa: 50-50'' explores options for building a proper democracy that results in a meaningful nation-state – a nation that is at peace with itself.
Traditional authority emanates from our social order. In an increasing order: family heads, sub-chiefs, chiefs, paramount chiefs and kings. A traditional leader with paramount chiefs under him is a King. He doesn't need anybody's approval.
The chief is an office and part of the social order. You can chase one out, but you can't destroy the office. The British tried with Ga Mantse Taki Tawia (1878-81) and Asantehene Prempeh I (1896-1925). They realized their buffoonery and brought both kings back from exile.
Democracy isn't about procedures. It's about people. Government of the people, by the people and for the people. Even in their weakened state, the people still love their chiefs more than the failed MPs and the discredited political parties. So, what must we do? Enter FANEFA – half & half.
By Dr Nii Amu Darko