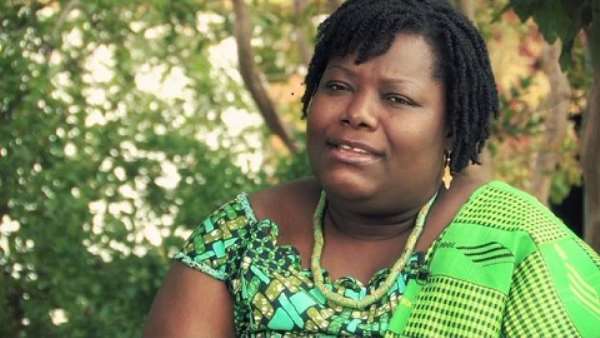 Not very long ago, her own longtime husband, presently estranged from the former Minister for Gender, Children and Social Protection, Mr. Anthony Lithur, publicly and virulently accused Mrs. Nana Oye Lithur of having sullied their marital bed with callous indulgence in adultery with an old flame from yesteryear. So, if she feels as if she direly needs anybody's forgiveness, perhaps the first port of call, as it were, before she hits the electioneering campaign trail, is to first turn to Mr. Lithur for the kind of forgiveness that she needs that Mrs. Lithur also seems to find it so necessary to publicly plead for (See "Forgive Me If I've Offended You – Oye Lithur Begs Ghanaians" XYZ / Ghanaweb.com 8/9/19).
I, however, found the caption of the news story that carried her message to be rather grandiose and melodramatic, if only because the former Minister for Gender, Children and Social Protection is only running for a parliamentary seat in the Adentan Constituency in the Greater-Accra Region. At any rate, the first thought that flashed across my mind was about Ms. Rachel Appoh, the former Oye Lithur deputy, who was widely reported to have been fired by then-President John Dramani Mahama, because the former National Democratic Congress' Member of Parliament for the Gomoa-Central Constituency, in the Central Region, was widely reported to have had some problems getting along with her then-boss.
Today, Ms. Appoh is a very successful empresario/a in the entertainment television industry. Not only that, Ms. Appoh has also been widely reported to have categorically stated that she would not run again for the Gomoa-Central parliamentary seat primarily because of the ill-advised decision by former President John Mahama to run for the Presidency, once again, in the 2020 general election. So clearly, there appears to be some bad blood raging among some of the key operatives of the Mahama-led National Democratic Congress. One can also almost be certain that Ms. Appoh has yet to forgive both the man who fired her from her deputy minister's job, as well as her apparent political rival because of whom she had been let go by then-President Mahama.
So, maybe Mrs. Oye Lithur may want to see herself and her political ambitions being taken seriously by reaching out and publicly and specifically seeking out the forgiveness of Ms. Appoh. But, of course, it all depends on the fact of whether Candidate Oye Lithur actually believes herself to have wronged her former ministerial deputy. There appears to be no end to the funny lengths to which some Ghanaian politicians would go to secure a parliamentary seat and, hopefully, see their party assume the democratic reins of governance so they could fleece these unsuspecting and wantonly exploited Ghanaian voters and civil servants once again, I find another part of me saying.
You see, not very long ago, at just about the same time that Mr. Tony Lithur publicly and virulently accused his estranged wife of having committed adultery with an old flame or friend, for which reason she had suddenly developed an unusual habit of frequently flying to Britain's royal capital of London, the renowned Ghanaian lawyer also caustically accused his estranged wife of having "thievishly" purchased a mansion worth at least one-half-million dollars (that is, $500,000 USD) in South Africa. Mr. Lithur, Mr. Mahama's lawyer in the Akufo-Addo-led Election 2012 Presidential-election Petition, has also accused his wife of more than 20 years of "thievishness" because reports citing some of Mr. Lithur's grievances against his estranged wife, also noted that Mr. Lithur was fully convinced that Nana Oye Lithur would be at sea or in deep trouble, if she were asked by the judge of a legitimately constituted court of the land to account for the source of the money used for the purchase of her alleged South African mansion.
At any rate, for yours truly, what is of unique significance and interest here is none of the lurid details about the apparently shady dealings and lifestyle of the would-be-Candidate Oye Lithur, as allegedly leaked to the media by unnamed sources and accordingly recounted above. Rather, it is the facile idea, rife among our public officials and politicians, that they could, somehow, conduct themselves in whatever manner they so choose to or decide. And then come the next election season, or whatever momentous occasion they so choose, come public and simply spend 30 seconds to apologize for whatever they may deem themselves to have done to displease any member or members of the general public in their official capacities as cabinet appointees, at least in the case of Nana Oye Lithur, and then facilely hope that this 30-second apology stunt would then have wiped off some four-and-half years of self-perceived misdeeds, intended or unintended.
Not very long ago, shortly after stepping down as the Inspector-General of the Ghana Police Service (IGP), Mr. John Kudalor issued a similar mea culpa or forgiveness-seeking statement. One begins to wonder: Is this an NDC thing or the new political mantra in Ghana?
*Visit my blog at: kwameokoampaahoofe.wordpress.com Ghanaffairs
By Kwame Okoampa-Ahoofe, Jr., PhD
English Department, SUNY-Nassau
Garden City, New York
August 20, 2019
E-mail: [email protected]