Could Kennedy Agyapong (Hon) not be the Best Investigative Person And MP in Ghana?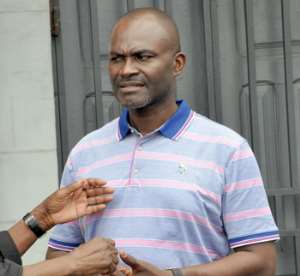 Kennedy Agyapong
From empirically indisputable observation and evidence, the Member of Parliament (MP) for Assin Central, Kennedy Agyapong (Hon), is by far the best investigative personality in Ghana. He stands taller, and above, all his peers, when it comes to conducting and obtaining positive results for criminal investigations in the country.
I should like the Ghanaian and the worldwide public to note that he is neither a crime officer nor a trained investigative expert in crime yet, he is endowed with the gift to conduct criminal investigations that turns out results. May I say, from my perspective, his method for conducting criminal investigations stands par excellence as the most reliable of all, although he is not a member of the country's Criminal Investigation Department (CID) but an MP, thus, a legislator.
Unlike the currently renowned, but questionable, Ghanaian ace investigative journalist, Anas Aremeyaw Anas, he does not set anyone up before he conducts criminal investigations into suspected or committed acts of crime to obtain credible results admired by discerning people.
Among many of his successfully executed investigations, I will cite about two or three to support my assertion.
Was he not the one who came out with credible documentary evidence to show to Ghanaians on air that the younger brother to former President John Dramani Mahama, Mr Ibrahim Mahama, had not been paying his due import duties on his heavy-duty vehicles or equipment imported into the country, and cleared from the ports, for the past two years from the time that he, Kennedy, was informing the public of the incident?
Ibrahim Mahama for unexplained reasons but which conduct was criminal, had issued twelve dud cheques to clear his imported goods. Kennedy had got copies of the cheques, when they were issued, which bank was supposed to honour payment but refused to, because Ibrahim had no money in his account. He had the bank account number, etc. Knowing clearly that he had no money in his account, but with intent to evade import duty payments, he issued the cheques on Fridays somewhere in the afternoon so that the receiver, thus the Customer Office, might not be able to present them at the bank for payment into their account. When they presented the cheques on Monday, the bank bounced the cheques.
The Custom Office could not get him to pay them. In total, he had issued twelve dud cheques for import duty payments amounting to twelve million Ghana New Cedis (GHS12 million). As soon as Kennedy came out with all the evidence that could not be faulted, Ibrahim hurtled like a frightened dog escaping from suspected danger for its sheer life with its tail tucked in-between its hind legs, to make payment to the Ghana Custom Office.
Kennedy had saved the nation GHS12 million which Ibrahim would otherwise never pay, concluding from his infatuation with issuing such dud cheques for consecutive two-year period coupled with the clear inability of the Custom Office to oblige him to pay them, probably because his brother was the President of the 4th Republic of Ghana.
What is a DUD CHEQUE, one may ask? A dud cheque by Cambridge dictionary definition is, "a cheque (= printed form promising to pay money) that has no value because the person who has written it does not have enough money in their bank account to pay it"
Was it not Kennedy who came out with proofs to inform the Ghanaian public of one Mr Alfred Agbesi Woyome, the self-styled NDC financier, having fraudulently obtained GHS51.2 million from Ghana government for judgment debt payment? He did this while his other colleague MPs who had knowledge of the crime were keeping quiet as if nothing untoward had happened. Had he not done that, Alfred Agbesi Woyome, ingrained swindler, would have continued to collude with his NDC accomplices to dupe the nation much more.
If Woyome has refunded even a pesewa from the money so duped, if Woyome has been deterred from duping the nation any further, credit and praise must be given to Kennedy Agyapong (Hon). Let me add a note here that former President John Dramani Mahama must bow down his head in shame for awarding a contract of about GHS530 million to Woyome in attempt to assist him cunningly raise money to pay off the GHS51.2 million he had swindled the country but which the Supreme Court had ordered him to pay back to the country. What a condoning and conniving President!
In any civilized country of civilized law-abiding citizens with laws enforced to the letter and spirit, Alfred Agbesi Woyome, would never again be awarded a government contract, as proven swindler as he is yet, the equally criminal NDC President and government saw no wrong with him but to award him a big contract as just mentioned above.
The last but not the least, if the allegation that Kennedy got someone to audio-record Mr Samuel Ofosu Ampofo, the Chairman of NDC, in his infamous meeting where he lectured the meeting attendants on how best to bring about insecurity in the nation to make the country ungovernable for His Excellency Nana Addo Dankwa Akufo-Addo and his NPP Government were true, then hallelujah, another feather in the cap of Kennedy.
He did not arrange with anyone to commit a crime to get them recorded to prove his investigatory prowess, and for public consumption, as Anas in some circumstances does.
Ofosu Ampofo should be behind bars by now because all the criminal activities, kidnappings, armed robberies, etc., as he ill-advised his NDC fanatics to commit as a means of their political strategy to win election 2020 are practically taking place in Ghana on weekly, if not daily, basis.
If the judicial system in Ghana was not that corrupt, but fair and firm, in their dispensation of justice and punishing criminals, Ofosu Ampofo, a criminal doubling as an Elder of the Church of Pentecost, preaching the Word of God, should be behind bars by now to serve as a deterrence to most of the hardened NDC criminals. Nevertheless, credit must be given to Kennedy if indeed, he got criminal Ofosu Ampofo recorded as alleged.
Some people in Ghana claim not to know the importance of Kennedy as an MP and left to those people alone, he had better be sacked or imprisoned. To those people, I say, they do not know the value of Kennedy that the nation has until we lose him. Which of the MPs in Ghana has helped save the country more money and exposed criminals as Kennedy has done? Are most of the MPs not corrupt, incompetent and accomplices in crime like Deputy Attorney General Barten Odro and then Deputy Chief of Staff, Alex Segbefia, who later became the Health Minister? Did they not suspiciously turn out to be accomplices with regard to Woyome dubiously taking GHS51.2 million from Ghana? What about the questionable role played by then-Attorney General Betty Mould-Iddrisu?
Kennedy, keep up the good job you are doing for your country Ghana. Some people may hate you just out of envy but ignore them. I know you will soon bring "crying baby" Kevin Ekow Baidoo Taylor, another criminal tasked by some unknown criminals to spew balderdash and half-truths about His Excellency Nana Addo Dankwa Akufo-Addo and other people, all mostly, for his self-serving interests, to his knees. Much as most politicians are corrupt, I expect Kevin to tell the truth but not lies just to defame some people because they do not share the same ideas as he does or do not give him money for no job done.
Rockson Adofo
Saturday, 21 September 2019.