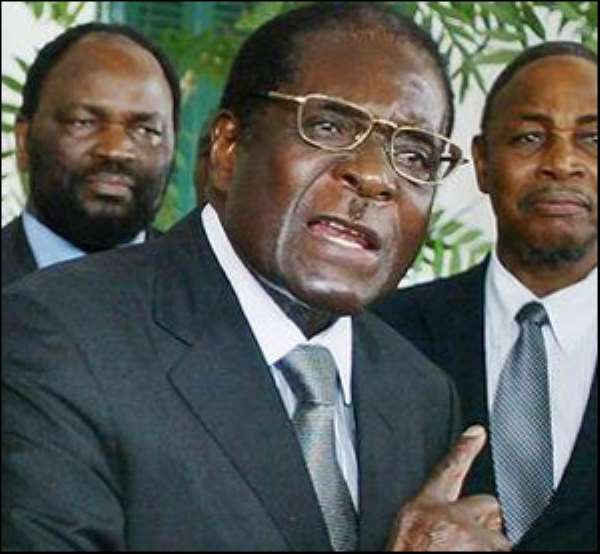 Robert Mugabe
In 1962, I took advantage of a trip I made to Kampala, Uganda, to attend a conference of African writers, to travel to Northern Rhodesia (now Zambia) and Southern Rhodesia (now Zimbabwe), as well as Nyasaland (now |Malawi). In those days, racism was rife in those countries and most of us who understood how parts of Africa were seized by white people and enslaved in a manner far far worse than Ghanaians had experienced, regarded them as enemy territory.
So my proposed trip looked like a dangerous enterprise. But I had an even more immediate problem: I had deliberately not discussed the trip beforehand with my employers at Drum Magazine. For I suspected that they would veto the idea. You see, Drum had its headquarters in nearby racist South Africa. And the two Rhodesias were, politically, "mini-apartheid" states, with a system of oppressing the black majorities very similar indeed to that in South Africa.
The two Rhodesias were nominally, under British colonial rule, of course. But the British allowed the white minorities there to discriminate against the blacks, just as the British had allowed South Africa, when it was a British colony, to become an independent country (with a disfranchised black majority!) The suffering which was occurring amongst blacks under the yoke of white minority rule in South Africa had been brushed under the carpet by the British, and in the 1960s, they seemed ready to repeat the same noisome dose –this time, to the blacks in the two Rhodesias and Nyasaland (now Malawi).
The British had allowed the whites to append Nyasaland to themselves, in a "Federation of Rhodesia and Nyasaland". The whites camouflaged their monopoly of power in the Federation as a "partnership" between whites and blacks. But one of the Federation's white founders, Lord Malvern (formerly Sir Godfrey Higgins) had indiscreetly bragged that this was a "partnership of "rider and horse"!
Alerted to this, the Africans in the Federation were waging a violent struggle against white rule. They were hell-bent to prevent the Federation from being accorded independence by the British, under lines that would enable it to become "a second South Africa".
Now, Drum, the monthly magazine whose Ghana edition I edited in 1962, was itself riding two horses: it was publishing in the two African countries that had proved that majority rule could work in Africa – Ghana (independence in 1957) and Nigeria ) 1960). These two countries were among the African countries that were making the most noise against colonialism and racism in the world.
Yet Drum, from its Johannesburg headquarters, was also publishing a Central African edition, in the racist countries. So it had to be careful not to allow its two sets of readerships to become "cross-fertilised", otherwise their rulers might be offended by what stories – and ideas -- were imported from one area of the political arena to the other.
I was not unaware of these contradictions that lay in the path of the Drumempire, but my burning desire to see Africa rid itself of racist oppression impelled me to throw all caution to the winds. I wanted to go to the Rhodesias at all costs to see for myself, and report on, what life there was really like for the blacks.
But would my bosses at Drum be happy to hear that I was visiting their region? Without pre-arranging the visit with them? It is great to be young! I was only 25, and full of myself as I was, I was only interested in doing what my heart said I should do! So I cabled to Sir Roy Welensky, Prime Minister of the Federation of Rhodesia and Nyasaland, in Salisbury, politely asking him to grant me an interview. To my utter surprise, he agreed.
And that's how I found myself interviewing Sir Roy Welensky for Drum! The interview, published under the headline: "MR DRUM GRILLS WELENSKY!" was a major scoop in Ghana. Not only did the magazine sell out within days but Mr Michael Dei-Annang, President Nkrumah's most senior assistant, phoned to congratulate me on it. He said the interview read like "trying to squeeze water out of stone".
And in truth, it did. Welensky disputed every argument I advanced to the effect that Africans everywhere – including the Federation – were ready to rule themselves, On the economic development that Ghana had chalked for itself since independence, he coldly pointed out that we had been lucky, having inherited a "nest-egg" from the British before they left!
But the Welensky interview was nothing compared to what I learnt by staying with the Drum man in Salisbury, Noel Mukono. He and his constant companion, Tranos Makumbe, often took me to a "beer hall", the only place where Africans were allowed to drink.. And at night, they received numerous visitors, with whom they conversed in their own language. I could guess that they were talking very high politics, but, of course, I didn't understand.
I was glad I didn't, for shortly after I'd returned home, I heard that some of the visitors, including a man called Leopold Takiwara, had bee plotting to break away from the National Democratic Movement (NDM) led by Mr Joshua Nkomo. (It later became the Zimbabwe African People's Union, ZAPU). The anti-Nkomo group called their party the Zimbabwe African National Union, ZANU!
Could I have kept such hot news under my hat if I'd been told? I am glad I wasn't put to the test!
I was therefore present in the house where the political party was mooted that served as the instrument which Robert Mugabe used to wrest power from the white minority in Rhodesia. At the time I was staying with Noel Mukono, Mugabe was in prison, having been convicted of sedition for making a "!subversive" speech against the racist regime in Southern Rhodesia, led by Sir Edgar Whitehead.
Altogether, Mugabe stayed in the racists' prison on and off for eleven years. The Africans loved him for this. He had been away from Rhodesia, teaching at Apowa Secondary School, in Ghana, after a stint of study at Achimota. Later, he also studied at the Kwame Nkrumah Ideological Institute, Winneba. Apparently, it was there that he met and married Sally Hayfron, a Ghanaian official at the Institute.
www.cameronduodu.com