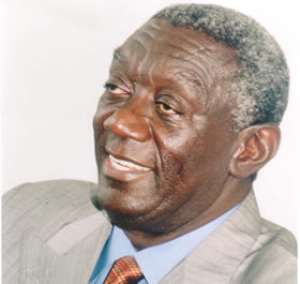 The student body of Takoradi Polytechnic wishes to warn the President of the Republic of Ghana or any member or government official who makes it to the celebration of the institutes 50th anniversary celebration that they come there at their own risk as students are organizing a riot against the polytechnics principal who have refused to re-found to as some amount due us in connection to the unreasonable amount charged as fees for this academic year.
The management were supposed to have re-founded to us an amount of almost 400,000 cedes last academic year which they never did saying those monies would be used to institute an ICT center which even as we end the 1st semester for this year we still have not seen. Students in the graphic design department don't have computer graphic lectures because there are no computers in the school, recent information reaching the students indicates that they have just acquired about 40 computers in the computer lab of the new auditorium to be commissioned by the president.
Mismanagement by this administration is getting too much and the students can't take it any more, in this view the authorities are threatening the students with dismissal even if you take a chair from a class to another class for lectures.
Insurance fees paid so far have not been fulfilled even as we end the 1st semester.
There are a lot of things going on in the management of Takoradi Polytechnic with the principal giving additional two year term to all deans and head of departments who are part of his malicious combats.
There are a lot to know about this unfair treatment of the authorities to the students who burned a supposed thief in the early hours of the 21st February, to tell them we can really cause harm if we are not treated as real tertiary students.
Do your investigations various media houses to help accomplish the governments zero tolerance for corruption. It is getting out of hand on Takoradi Polytechnic campus and all say "No re-found no anniversary".
Thank you, From concerned students.