Ibrahim Mahama is within his Constitutional Rights to Chase the Bauxite Deal but….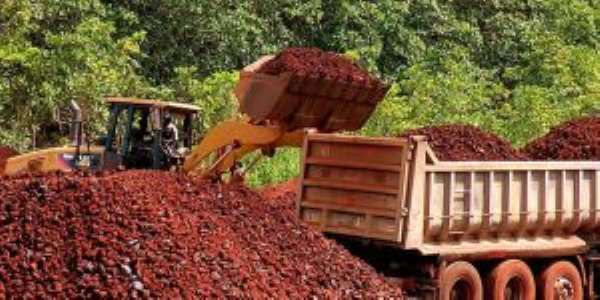 Mr Ibrahim Mahama is officially known in Ghana as the younger half-sibling (brother) to former President John Dramani Mahama. Many a Ghanaian will recall that on 29 December 2016, when the National Democratic Congress (NDC) had lost the 7 December 2016 general election woefully and was wobbling its way out of office, then in-transition President Mahama, signed a bauxite concession contract for the company of his younger brother, Ibrahim Mahama.
He signed about 75 per cent of Ghana's bauxite deposits, situated in the forest of Nyinahin in the Atwima Mponua District of the Ashanti Region, to Exton Cubic, a company belonging to his brother, Ibrahim Mahama. The president did not follow due process but allowed his wisdom, if he had any, to be clouded by greed. This accusation and derision of the president being evaded of intelligence and wisdom at a critical moment that he needed that judgmental quality will be made known shortly.
On assumption of office by the New Patriotic Party (NPP) government under President Nana Addo Dankwa Akufo-Addo, the Lands and Forestry Minister John Peter Amewu, cancelled Ibrahim's bauxite concession lease as stated above. However, a High Court Justice Ackah-Boafo ruled in favour of Ibrahim Mahama or his company saying, the Minister John Peter Amewu had no right or erred abrogating the lease contract. Subsequently, an appeal was made to the Supreme Court of Ghana.
A five-member Supreme Court panel sat on the case. The panel was made up of Justices Samuel K. Marful-Saw, Julius Ansah, Professor Emmanuel Nii Ashie Kotey, Jones Victor Dotse and K. Anin Yeboah. They overruled the verdict declared by the High Court Judge on the grounds that in accordance with Article 257, all minerals belong to the people of Ghana and the President holds same in trust for the people and that is why Article 268 enjoins all mining leases to obtain parliamentary ratification.
Let all Ghanaians be informed that the then outgoing President Mahama did not obtain parliamentary approval when he rushed to sign out the bauxite concession to his brother. This breach of constitutional clause or provision is more than enough to negate the contract as was accordingly upheld by the learned Supreme Court Justices.
Additionally, he had miserably lost the Wednesday, 7 December 2016, general elections and had a month, until 7 January 2017, to hand over the reins of government to the incoming President Nana Akufo-Addo and NPP government. However, just ten days to handing over, on 29 December 2016, he signed the contract for his brother.
Who was he kidding if not himself? This is where he was robbed of his intelligence and wisdom if he had any at all, if the shock to him arising from the loss of the election had not evaporated any wisdom or intelligence he had.
Any wise outgoing President in his last ten days in office would not dare take such a decision let alone, a decision that was in breach of constitutional provisions stated black and white as cited above.
Let me cite a precedent from the United States of America to buttress my argument. An American associate Supreme Court Justice Scalia died on 13 February 2016. It was an election year in the USA.
In the USA, all the Federal Supreme Court Justices apart from the leader who is the Chief Justice, are called Associate Supreme Court Justices.
"This vacancy to fill the position for US Supreme Court arose during Obama's final year as president, and shortly after Scalia's death was announced, Republican Senate leaders declared that because Scalia's seat had become vacant during an election year, the Senate would not even consider a nomination from the president"
The American presidential election was due to be held on 8 November 2016, about seven months away, still, the American Senate for the reason of election year and probably other undisclosed reasons of not permitting Democrats to hold majority seats in the Supreme Court, prevented President Obama, a Democrat President, from nominating a candidate to fill the vacant position until after the election.
When the President-elect Donald Trump took the oath of office, and became the President of America, he nominated Neil Gorsuch on 1 February 2017 for the position of associate Supreme Court Justice to replace the decedent, Scalia. Neil Gorsuch was confirmed on 7 April 2017, and began work on 8 April 2017.
Even for almost seven clear months away from election, then President Obama was not allowed to nominate anyone to fill a vacancy as told above. Why should we accept it for right, when a President who has lost election and has just ten days to leave office to sign 75% of the bauxite mineral deposits lease to his brother? Will Ghanaians not be taken for dumb if we accepted that, especially when he did not satisfy a constitutional requirement?
I have read on the Ghana internet news portal that Ibrahim Mahama has decided to seek a review of the Supreme Court verdict. He still wants to avail himself of the bauxite mineral concession signed out to him by his corrupt brother with whom he shares the same feathers.
To those of us who are laymen in the law profession, as the Supreme Court is the apex court of the land and their decision is final, a room is still made available for people to seek review of their declared decisions or verdicts from the same court. What they do is, now that 5-member panel decided the case against Ibrahim Mahama and his company, at the review, they will either empanel 9, 11 or all the 14 Supreme Court Justices to hear the case to come out with a decision for finality.
In a small country like Ghana we have fourteen Supreme Court Justices whereas the United States of America (USA) has only eight Federal Supreme Court Justices comprising the Chief Justice and seven associate Supreme Court Justices. In the United Kingdom or Britain (England, Wales, Scotland and Northern Ireland), a land far bigger than Ghana and with a population of 66.04 million (2017), they have twelve Supreme Court Justices.
As time is of essence and to avoid any unnecessary back and forth legal wrangling between litigants, the UK 11-member Supreme Court judges sat "to hear the politically charged claim that Boris Johnson acted unlawfully in advising the Queen to suspend parliament for five weeks in order to stifle debate over the Brexit crisis". They took three days to hear it and will declare their verdict early next week. They do not dither unlike it is in Ghana where cases linger in courts for months and years on end to end up in, "justice delayed is justice denied"
CONCLUSION
Ibrahim Mahama's review as sought is dead on arrival based on the fact that the contract awarded to him was not approved by parliament. His senior brother must be ashamed of himself for his insatiable greed and for taking Ghanaians for fools because we have a short memory so he can do whatever he wants when he wants. Because of this clear nonsense, although I had decided to stay away from Ghana politics that sucks, I shall be campaigning against NDC and for all the nonsense they stand for, Inshah Allah!
Was it not Ibrahim who is on record to have issued twelve dud cheques to the tune of GHS12 million to clear his imported goods from the nation's ports? He would not have paid the import duties if Kennedy Agyapong (Hon) had not exposed him. Was it not the same Ibrahim Mahama who took a loan of either US$58 million or GHS58 million from Merchant Bank but refused to honour payments as agreed which probably subsequently led to the bank suffering distress, and finally, bankruptcy? Is he not the same person who took GHS302 million from the UT Bank and refused to pay back, contributing to the bank suffering distress, going into receivership, and finally collapsed into consolidation along with others?
He thinks to be smart but there are other smarter and honest Ghanaians out there to challenge the thievery being constantly visited on Ghanaians by the shameless Mahama family. I have had enough of the nonsense by this family, crafty persons as they are!
Rockson Adofo
Friday, 20 September 2019