E/R: Women Encouraged To Engage In Decision Making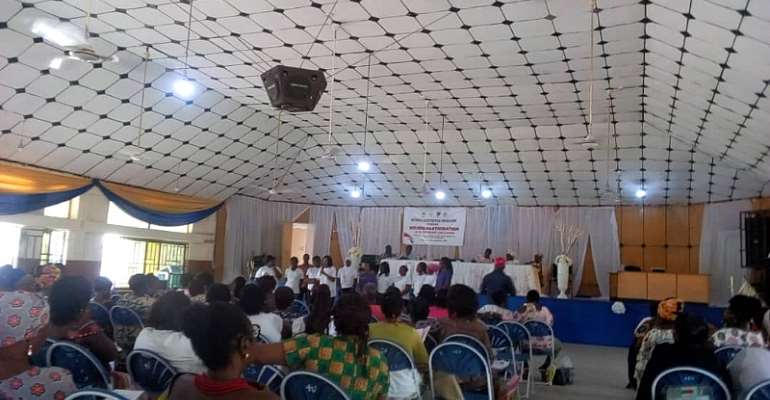 Women have been urged to take up the challenge of engaging in activities of nation building, rather than always looking up to the men.
Women have also been advised to desist from being enemies of themselves, that has the norm for the past years.
The Second Vice President of the National Association of Local Government Authorities, Ghana (NALAG), Madam Evelyn Danso, said this at Koforidua, during a sensitisation program organised for women Assembly members and aspirants to ensure massive participation of women in the local governance system.
She expressed worry the Eastern Region can boast of only one female, serving as a Presiding Member out of the thirty three municipal and district assemblies.
"It is sad to know that, only two females made it amongst the National Executive Committee of NALAG which has sixteen members. Why should it be so?" Madam Danso complained.
Madam Evelyn Danso appealed to the general public and men in particular, to support women to attain higher heights as their contributions to the nation's development can never be overemphasised.
The New Juaben North Municipal Chief Executive, Miss Comfort Asante, who represented the Eastern Regional Minister, Eric Kwakye Darfour, pointed out the need to have majority of women in the decision making.
"Women involvement in decision making processes is very critical not only because they constitute the majority of the population in Ghana but they are most often discriminated against and under represented in the socio economic and political activities in our dear country," she posited.
According to her, available statistics indicate that none of the District Assembly elections in Ghana has recorded more than 10% representative of women, indicating that in 1994, out of a total number of 4,204 elected members of the Assembly, only 122(2.9%) were females.
Again, only 11 women were appointed as District Chief Executives in 2013 whilst a record of 1182 females contested September 1, 2015 as against 17,756 males, she added.
"I would like to use this occasion to commend the NPP Government for the introduction of Free Senior High School in the country. Our young women should take advantage of this policy and enroll in their numbers so that they could achieve the requisite knowledge and skills in future to contest the men in the local level elections," she stressed.
Other dignitaries and role models also took turns to encourage participants on the need to stay focus amidst the challenges that come with it.