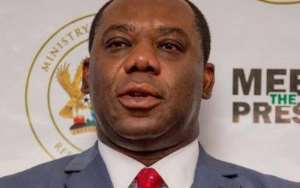 Dr. Matthew Opoku Prempeh
Dr. Matthew Opoku Prempeh, Education Minister aka Napo has finally apologized to parents and guardians for the torture they went through under the hot weather at the Independence Square in Accra while seeking school placement for their wards.
Hundreds of students and parents went through trouble times at the Computerised School Selection and Placement System centre at the Independence Square, with a number of students, fainted during a melee and had to be resuscitated.
Speaking on Citi FM News Thursday morning, the Education Minister apologized to the parents and students for the hardships they endured at the centre, saying the Ministry had anticipated that genuine challenges would occur and had made adequate arrangements to cure them, including setting up resolution centres.
"What happened in Accra, we are very, very sorry for it. We could have done better. We hope that as time goes on the system will get better," he told his host Bernard Avle, saying parents still going through challenges must reach the helpline 0307007777 for assistance.