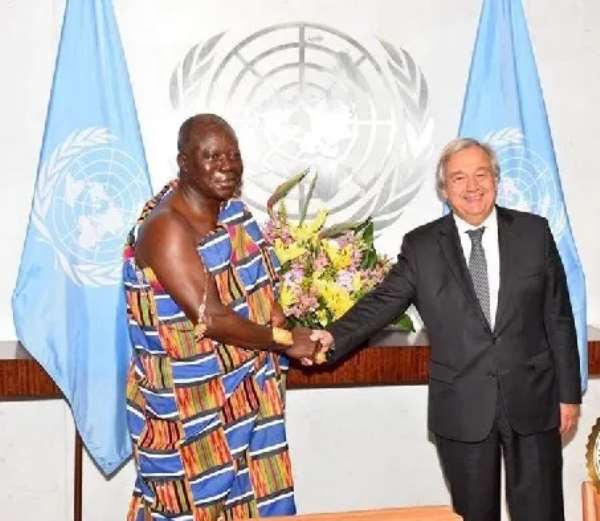 Asantehene
Hmmm, Oman Ghana - eyeasem oooo. Asem kesie ebeba debi ankasa. Ebeeii, Ghana's political class - na waa ooo. The arrogance of Ghana's minister for information, Hon. Kwadwo Oppong Nkrumah, is beyond belief. That man has grown wings to the extent that he now even publicly refers to one of his predecessors in office, Hon. Oman Bramah, as an insolent fellow, in casual fashion. Amazing.
And why, you might ask? Is it not telling that that super-incompetent-moron, is obviously oblivious of the fact that the PR crisis, which a hardworking administration that is laying the foundation for the eventual transformation of our homeland Ghana, is now going through, can be laid firmly at his doorstep? Yet, he has the gall to call a fellow politician, insolent - he the indolent one. Incredible. Be that as it may, his inane remark about Oman Bramah, encapsulates perfectly, all that is wrong with our society today.
The tribal supremacists in our midst, who seek to divide our country - especially those prostituting the honour of an institution of state safeguarded by our Constitution, who seem to forget that the Asantehene has demonstrated time and again that he is indeed a Ghanaian patriot, and, loyal citizen, who is actively contributing his quota to the nation-building task - miss the point, in their stupid knee-jerk reaction to those criticising the Asantehene (so unfairly, it ought to be pointed out, incidentally).
The question is: Since our Constitution prohibits Chiefs from meddling in politics, why did those at the presidency, and the foreign ministry, who ought to have known better (arrogant sods with serf-like-mentalities and #Dark-Ages-World-Views), not ensure that they were au fait with the contents of the Asantehene's speech to the UN General Assembly, and insist that if he was going to speak about his role as a peacemaker in Ghana, he would refer only to his historic Noble-Peace-Prize-deserving role, in bringing peace to what for decades had been a faction-ridden Dagbon?
It is definitely not the Asantehene's fault that the whole of Ghana's machinery of state has been mobilised to glorify a few Chiefs - and, after all, were both former President Mahama and his Chief of Staff, Julius Debrah, also not both complicit in that outrageous and shameful enteprise, in Nkrumah's Ghana? Haaba. In light of that, no one should blame the Asantehene, for what really is only a storm-in-a-small-palm-wine-calabash. Case closed.