Citizens Urged To Participate In Fight Against Corruption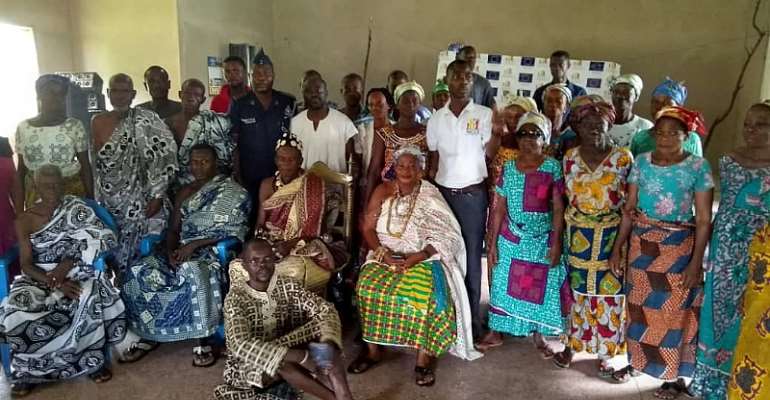 Mr. Charles Paintsil, the District Director of the National Commission for Civic Education (NCCE) has urged all citizens to collaborate in the fight against corruption which is subtly destroying the socio-economic and political fiber of the country.
According to him if the phenomenon is left unchecked could derail economic progress and undermine the Rule of Law and social cohesion which will further promote insecurity in society. He, therefore, called on everyone to join in the fight by demanding for accountability from public officials who are working with entrusted power.
He noted that denouncing corrupt practices is the first step towards combating them effectively and charged the citizenry to discharge their duties with integrity.
Mr. Paintsil disclosed this when addressing a durbar organized by the District Directorate of the Commission at Dompofie in the Banda District under the theme Public Accountability and Environmental Governance with support from the European Union (EU) under the Accountability, Rule of Law and Anti-Corruption programme (ARAP) aim at empowering members of the community to demand accountability from public officials.
He also charged the public to see corruption as a common enemy which deprives every citizen especially the vulnerable including women and children, as well as the disabled of their fundamental human rights, stressing that, when it comes to corruption, no one is safe and it has no friend to spare.
The District Police commander, DSP Philip Jagri urged the public to see the police as stakeholders when it comes to maintenance of law and order in society. He urged the public to make use of the Whistle Blower's Act as a potent tool to fight corruption and related wrongdoings in the society.
Mr. Kwabena Badu, secretary to the Banda Traditional Council took his turn to school the participants on the Whistleblower Act, 2006 (Act 720). He advised participants to desist from shielding wrong doers from the Law enforcement bodies since that practice inhibit development.