Asamponhene's Main Killer Grabbed In Burkina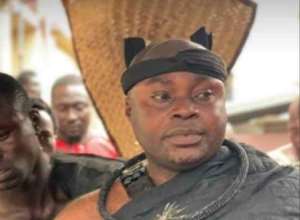 The Ashanti Regional Police has arrested the main suspect in the murder of Nana Kwadwo Afoduor, the Otumfuo's Asamponhene.
According to a police statement, the suspect, Anumwar Sadat Mohammed, was arrested in Ouagadougou, Burkina Faso on Monday, September 16, 2019 "through a collaborative effort of the Ashanti and Upper East Regional Police Command, the Ghana Embassy in Burkina Faso and the Interpol Ghana and Burkina Faso."
"He is in currently in [police] custody assisting in investigations. The suspect had fled the country to neighbouring Burkina Faso to settle with his family but luck however eluded him and he was arrested."
Police investigations indicated that Sadat Mohammed, aged 33, had travelled together with the Asampohene before his death.
The murder took place on the outskirts of Ebuom near Atebubu on August 18, 2019.
The Asamponhene's body was left in the backseat of his Toyota Land Cruiser.
The police had previously arrested six suspects in the course of their investigations.
Find below the full police statement