UE/R: WFP Partners Smallholder Farmers To Reduce Post-Harvest Loses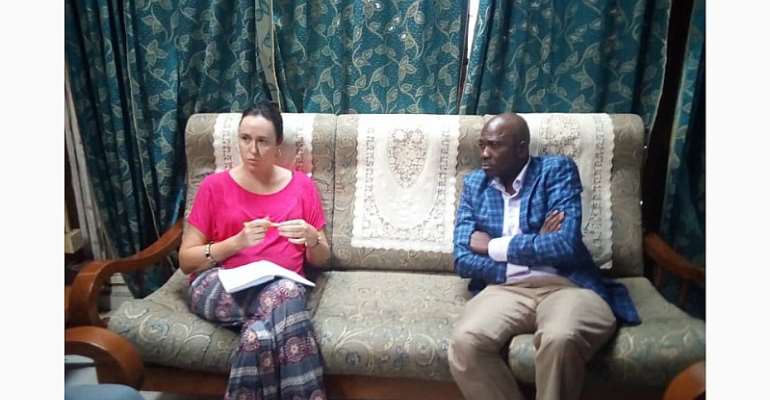 The World Food Programme (WPP) Deputy Country Director in Ghana, Ms Alessia Decaterina has said that her outfit is collaborating with Smallholder Farmers and Women Groups to reduce the annual post harvest loses in the Upper East Region.
She said WFP is also undertaking other activities to add values to the produce of the farmers.
According to her, they have distributed a number of modern donkey-carts to the farmers to help them cart the food crops to their houses efficiently on time and safely unlike before where the crops are left on the farms and as a result got infested.
The WFP Deputy Country Director made this known during a courtesy call on the Deputy Upper East Regional Minister, Hon. Frank Fuseini Adongo at his office in Bolgatanga.
Ms. Decaterina mentioned that her organization in collaboration with the Ministry of Food and Agriculture and Savanna Agriculture Research Institute is ensuring more capacity building, proper storage methods, and linking the farmers to storage facilities.
She also said they are working closing with the Ministry of Gender, Children and Social Protection to pass the School Feeding Bill into law to provide funding for the programme irrespective of which party is in government.
Currently, Bongo, Bawku West, Bawku Municipality, Binduri and Tempane districts Ms. Decaterina mentioned are the areas that are receiving the support in the region.
Hon. Frank Fuseini Adongo, the Deputy Upper East Regional Minister welcomed the delegation and thanked them on behalf of the Regional Minister for their massive contribution to the development of the region.
He mentioned the great support WFP gave during the last year flood disaster that destroyed lives and property. The WFP support he said restored hope to many victims before the government and other relevant agencies followed up.
The Deputy Regional Minister recounted most of the support offered by WFP especially in terms of food distribution which encouraged most young people to stay in schools. Most those beneficiaries he indicated are now occupying top national positions and contributing their quota to the development of the nation.
Hon. Frank Fuseini Adongo also the Member of Parliament for Zebilla urged them to do more especially in the area of the School Feeding Programme which is dear to the heart of the government and the people of Ghana.
He added his voice to the Hon. Regional Minister's call to stop the slaughtering of donkeys by some Chinese nationals for exportation, adding that if care is not taken the animal would soon become endangered species.