Okyenhene Orders Military Officer To Stop Parading Himself As Kwabeng Chief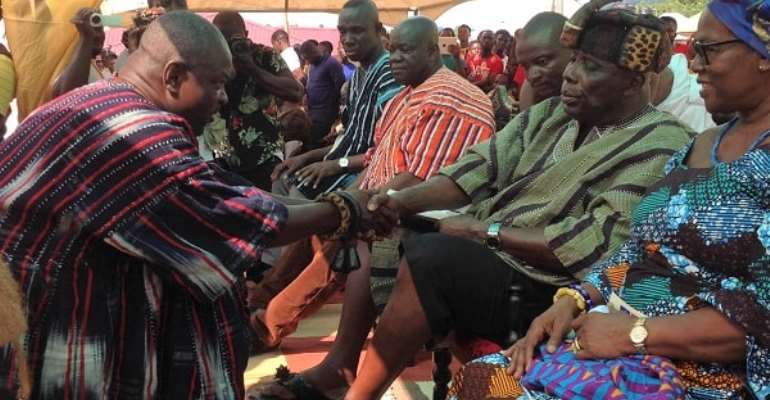 The Okyenhene, Osagyefuo Amoatia Ofori Panin, has asked a serving military officer, Brigadier-General Charles Awuiti, to stop holding himself as the Chief of Kwabeng in the Atiwa West District in the Eastern Region.
He said Brigadier-General Awuiti, who had described himself as the Chief of Kwabeng since 2013, did not follow the right process to occupy the stool and, therefore, his purported installation was null and void.
Addressing a durbar in his honour at Kwabeng on Tuesday, September 17, the Okyenhene issued a directive to the military officer and leaders of the Akanwin Family to appear before the Akyem Abuakwa Traditional Council in Kyebi to apologise for their action and demonstrate a change of good behaviour.
"If the family fails to come to Kyebi in four days to apologise and show remorse for their deeds, the Okyeman Council will banish the entire Akanwin Family from succession to the Kwabeng Stool," he said.
The durbar formed part of his tour of the various communities in Okyeman to mark the 20th anniversary of his enstoolment as the Okyenhene.
Customary process
The Okyenhene said Okyeman had its own customary processes that served as a guide for the enstoolment and destoolment of chiefs in the traditional area.
"For centuries, Okyeman has had its own traditional processes that have helped us to live in unity and peace," he said.
Peace
Osagyefuo Ofori Panin said he would not allow anyone to hide behind chieftaincy to tarnish the image of Okyeman, noting that chieftaincy disputes drew back development, for which reason they would not be entertained.
"If anybody is insistent on disturbing Okyeman, I swear by the Okyeman Stool that whether I am dead or alive, Brigadier Awuiti can never be a chief in Okyeman," he stressed.
At Kwabeng and Akrofufu, the Okyenhene inspected development projects, such as a community centre and school buildings.
Key message
He said his tour had centred on the key message of unity and peaceful co-existence among the chiefs and the people of the Akyem Abuakwa Traditional Area.
He noted that no community could witness any meaningful development without quality education and, therefore, urged parents and guardians to take advantage of the government's free SHS programme to enable their children and wards to pursue further education after completing basic school.
Osagyefuo Ofori Panin expressed concern over the fact that while technology had offered opportunity for research, creativity and innovation, some youth of today put the Internet to negative use.
He urged such youth to have a change of attitude.
---graphic.com.gh