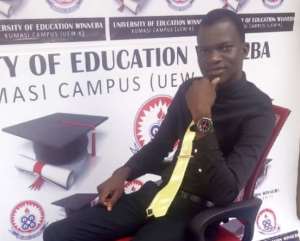 As I jacked my motorbike and surveyed the impressive environment, aptly and properly kept, I looked at the aptly arranged seats under the canopy as the late Ebony's song, ''Date Ur Fada'' rampage the air freely. I watched enthusiastically as the small children twist their hands, legs and waist in displaying their dancing prowess at the birthday of a well renowned friend of mine whose birthday invitation I could not in any way refuse because he has been a close friend and a classmate from primary to the university. While I was seated and enjoying the live coverage of comedy from those kids, I wished I could join these kids to tell them that I was ones a dancing 'cappo' before I hung my dancing boots because of the transition from childhood to adulthood. But joining those kids on the dancing floor as the only grown-up will speak volumes of how unserious I am despite the fact that it is a place to entertain ourselves.
As I nod my head and pinch my toes to the floor in unison with the rhythm and echo of the song awaiting the arrival of other invitees for the commencement of the celebration my thoughts were forced to stray to another aspect of human life when on that fateful Saturday, a Nissan Car branded with red flags zoomed passed amidst wailing and mourning which needs no further interrogation that one of us has joined the heavenly choir. My mind was swayed away into a different world of thought and reasoning immediately. I was forced instinctively to ruminate on the life hereafter. I witnessed how people watched the car passed with the corpse in the coffin and after it gradually disappeared from their vision business continued unabated.
As the birthday commenced and the champagnes were popped and the spirits ran high, all dressed in white I was absent minded and a thought dawned on me that man is not growing any younger and as such, birthdays are stimuli to remind us that we are heading towards eternity gradually. Beyond that, I got to accept the fact that there is no need arguing with the truth that our existence on earth here is just a perpetual exit into the world of eternity.
When I had the opportunity to congratulate him for attaining his twenty fifth year here on earth, I drew my mouth closer to his ear and said "Charlie, I wish you well and more of such celebrations in the years ahead, may such celebrations never end." He responded with a wide smile, "thank you, I wish you same.'' I gave a forceful and a stressful smile in return to express my happiness for his age long attainment oblivious to the fact that I was stark in the dark reality of the irreversibility of the forward matching of mankind to eternity. As I excused him that I had an urgent meeting to attend and needed to honour his invitation as well, I sought for permission to go and attend the meeting since much of such celebrations were ahead of us; he agreed and thanked me for the honour done him. Fast, I dropped him an envelope and left the scene to my residence, because I was not comfortable at that moment. Whenever I think about the final abode of man, I feel different from any other person else.
At this moment of nature imposed reasoning instinct at home alone, I sat on a wooden log just by the road at home under a tree while I observe the physical world with a different mindset. I sat for some time and I observed that, man on earth is busy chasing the wind. Different category of people ranging from beggars, madmen, the imbecile, the wise, the foolish, the rich and the extreme fool, all and I mean all of such people are busy chasing the wind. As I sat and use my left palm to support my jaw in amusement a Biblical truism came to mind that naked we came and naked we shall return. I further opined that God is just, and will not discriminate on the Day of Judgment, the extremely rich and the extremely poor both have their faith hang in the balance on that day. So I kept asking myself, what is the essence of one's wealth when you do not support the poor to better his or her life? After all, we shall die and leave everything behind. Not a single of our wealth shall follow us into our grave. As I juxtapose the rich and the poor in society, and how the former enjoys and the later suffers, a friend at Tamale UDS, who reads Doctor of Medical Laboratory Science plight, came to mind. He has since been wallowing to pay his fees, he has been ejected by his landlord on several occasions, and he has slept on an empty stomach on numberless times. He has written letters to the affluent and they betrayed him, he has walked through the lane of suffering but he has always said, never say die until the bones are rotten. We will surely leave this world one by one and not taking anything along, not even a pin of ours. The best gospel that I know is to clothe the naked and feed the hungry; this is what God termed as LOVE.
I know that even the powerful and globally recognized good old Robert Mugabe who died at the age of 95 wished he had still lived long to enjoy the fruit of his labour. Can one blame him for his wish? But with his foreign bank accounts, multifaceted buildings, luxurious cars and popularity, he is gone and no one knows that he ever lived. These are the Vanities and Vagaries of Life.
As a believer in Christ Jesus, who has read about the second coming of Jesus and comparing the Biblical instructions to happenings on earth here, in both the political and religious field, I felt that we have taken the wrong path. As my thoughts were weaved like a wave of whirlwind, I realized that living a perfect life alone is not enough to leave a legacy. It is yet another reality of the inevitability of man's mortality, their statuses in life notwithstanding and as such I think giving helping hand to the needy is also a call to duty by God and is not so much different from holding the mike and standing on the pulpit every Sunday to preach.
While I gallop on these lanes of thoughts, trying to decipher the perishable nature of man yet very boastful, domineering and recalcitrant towards one another, I just realized that man is not so much different from the grasses that fade off yearly, and it is just by the making of God that he created us humans. If the truth must be told, embers of greed, bitterness, sheer hatred and ''you do me I do you'' tactic is pulling down the ambers of human cognition.
While I still languish in this spirit of confusion and discombobulation, I realized that, per the nature of man, even if God provides all our needs mankind will still ambush for more and even cheat the poor of their little to enlarge their lot. This is because I have seen people within my vicinity who have sound education, happy homes, bloated bank accounts, they live lavish lifestyle, drive in the latest cars and erect buildings where and when they want, yet they keep rubbishing for more, we are indeed chasing the wind. I think society would have been a better place to live in, if we have had the mindset that, we are just passers-by. And not even a dine shall follow us anywhere when we finally exit this 'confused' world.
Dear reader, my father one time gave me a proverb that, ''God can use an egg to break a stone in order to disgrace the stone.'' But thus the irony of life. I wish to say that, the best life's accomplishment is how many lives you have influenced positively not how much you have enjoyed.
Columnist: Dogmalkuu K. Cornelius
Email: [email protected]
Tel:0240396947