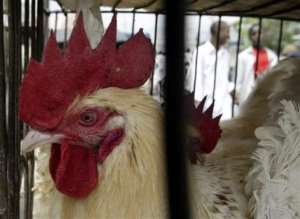 ... announce preventive measures Accra, Feb. 22, GNA - The government on Wednesday assured the public that it was closely monitoring the outbreak of avian influenza (bird flu) in several parts of the world, including Nigeria in West Africa, and announced a series of measures to forestall any eventuality. In a radio and television broadcast in Accra, Mr Ernest Debrah, Minister of Food and Agriculture, said although the outbreak had not been detected in any part of the country, it was very important for everybody to be alert and to report any unusual disease occurrence in our poultry.
Mr Debrah appealed to the public to verify from Regional or District Veterinary Officers any information or rumour of bird deaths. "This will help us avoid creating unnecessary panicky situation in the general public."
He said together with the Wildlife Division of the Forestry Commission, surveillance of wild birds and especially, migratory birds had continued and was being intensified.
"Now that the disease has reached Nigeria, this has given another dimension to the threat posed to Ghana.
"A ban has already been imposed on the importation of live poultry and poultry products from Nigeria. In addition, live poultry and poultry products including feathers are banned from entering Ghana through our entire eastern border."
Mr Debrah said since the threat of introduction of the disease was identified, a few months ago, the Ministry had started putting in place the necessary mechanisms for preventing the disease from entering Ghana and also for early detection and early response should the disease enter Ghana.
"We immediately imposed a ban on the importation of live poultry and poultry products including feathers from the countries where the disease had occurred. We have continued to monitor the global situation."
Mr Debrah said a National Avian Influenza Working group consisting of the Veterinary Services Directorate of my Ministry, the Ministry of Health, the Wildlife Division of the Forestry Commission, the Food and Agriculture Organisation of the United Nations, the World Health Organisation, United States Agency for International Development (USAID) and other development partners had been meeting regularly to review the avian flu situation.
The group has come out with Ghana's Emergency Preparedness Plan for Avian Influenza and Human Pandemic which contains actions for dealing with the disease in birds and also actions to deal with the disease should there be human involvement.
"The plan addresses issues of Planning and Co-ordination, Surveillance, Prevention and Containment, Health Systems and Communication. The role of our developing partners is to fill any funding gaps in the implementation of the plan."
Mr Debrah said the Government had released 2.5 billion cedis to the Veterinary Services Directorate of my Ministry for awareness creation and procurement of some essential equipment and chemicals. Ghana is also participating in an FAO Technical Co-operation Project, namely, "Emergency Assistance for Early Detection and Prevention of Avian Influenza in West Africa. In addition the FAO has provided Ghana us with an additional sum of 45,000 dollars to cover expenditure of travel, equipment and training.
The Minister said at the moment, Regional and District Veterinary Officers were out there in the field creating public awareness of the disease to ensure that all Ghanaians got to know how to identify the disease, and what to do should the disease occur in any part of the country.
Mr Debrah also gave some details about how the disease spreads. He said there was considerable evidence to support the view that migratory waterfowl, sea birds, or shorebirds were generally responsible for the introduction of the virus into poultry.
"Once introduced into a flock, the virus is spread from flock to flock by the usual methods involving movement of infected birds, contaminated equipment, egg crates, feed trucks and service crew (workers in poultry farms)."
Air borne transmission may occur if birds are in close proximity and with appropriate air movement.
"In other words we must all be part of the surveillance network in the country so as to be able to detect the disease early and to respond early. These are very crucial in our attempts to prevent the disease and contain it should it occur in our country." Mr Debrah said, while effective surveillance and diagnosis were critical to the control of the Highly Pathogenic Avian Influenza (HPAI), important measures that would be taken if there was an outbreak of the disease include:
- Prohibition of movement of animals, litter and vehicles from the infected farm or premises and the premises and its vehicles cleaned and disinfected,
- Rapid, humane destruction of infected poultry and poultry at high risk of infection Eggs would also be destroyed.
- Disposal of carcasses and potentially infective material in a bio-secure and environmentally sustainable manner.
- Enhanced bio-security at poultry farms and associated premises, including movement of personnel.
- A 3-kilometre bio-secure "protection zone" would be set up around the infected premises for at least 21 days.
- A wider 10-kilometre "surveillance zone" would also be set up, within which vets would visit those keeping birds and search for signs of bird flu. - Controlled movement of birds and products that may contain virus.
- Changes to industry practices to reduce risk (e.g. segregation of different poultry species in production and marketing systems).
- Compensation shall be paid to farmers whose poultry will be destroyed.
- The use of vaccination.
"Indeed, my Ministry shall invoke the provisions of the Diseases of Animals Act, (Act 83 of 1961). The area will be declared infected by the Minister of Food and Agriculture and all the measures in our Action Plan which has been prepared specifically to deal with Avian Influenza will be carried out."
Mr Debrah said Avian Influenza was not transmitted by eating poultry. "What seems to be required at the moment for the rare human cases that have occurred seems to be very intimate, close contact between humans and infected chickens." 22 Feb 06