German Arms Exports..."German Weapons Doesn't Belong To Anywhere There Is War"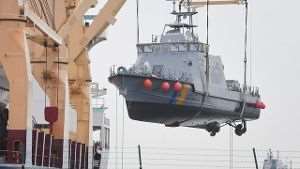 German arms exports to Saudi Arabia
After the attacks on Saudi Arabian oil plants, the debate about a resumption of arms exports to the country especially by the Germans is boiling again. An advance by the German Political Party "CDU/CSU" is however, met with harsh criticism.
The Greens in the Bundestag reject the resumption of arms exports to Saudi Arabia demanded by the CDU/CSU. "It is crazy, in view of the escalation in the Gulf, to increase the risks there even more with further arms exports," said the Green Party defense politician Agnieszka Brugger to the German Press Agency. At the same time, the human rights situation in Saudi Arabia and the bloody war in Yemen have not changed and there is therefore no reason to demand exports of military equipment to Saudi Arabia.
After the attack on Saudi Arabian oil plants at the weekend, the foreign policy spokesman of the Union faction in the Bundestag, Jürgen Hardt (CDU), had called for an end to the arms export ban in the country. He had told the editorial network Deutschland (RND) that it was in Germany's interest to ensure the stability of Saudi Arabia's and the United Arab Emirates' self-protection.
Arms export ban expires at the end of September
The German arms export ban to Saudi Arabia expires on 30 September. It was imposed last autumn at the Saudi Consulate General in Istanbul after the murder of the Saudi journalist Jamal Khashoggi. The measure was only slightly relaxed in March for supplies for joint projects with allies.
The Green foreign politician Omid Nouripour declared that a lifting of the arms export stop against Saudi Arabia and other actors involved in the Yemen war would be a "completely wrong step". The military action of Saudi Arabia and the United Arab Emirates in Yemen and Libya destabilized the region and was thus incompatible with German strategic interests.
"Where war is waged, there should be no German weapons"
Deputy SPD faction leader Sören Bartol also rejected the Hardt demand. "The CDU/CSU seems to have lost something of its foreign policy compass. The situation in Saudi Arabia has not improved since the decision of the Federal Security Council at the end of March," Bartol told the RND (Tuesday). The murder of Khashoggi has still not been solved. The efforts for peace negotiations are not coming off the mark. "Where war is waged, there should be no German weapons. The export ban to Saudi Arabia must be extended.
The foreign policy spokesman for the SPD faction, Nils Schmid, called for more international cooperation to defuse the situation. "For example, a joint conference on security in the Gulf region would be conceivable, Schmid told the newspaper Rheinische Post (Tuesday). There is an urgent need for a holistic approach to de-escalation that looks at the entire region.
Over the weekend, Iran-backed Huthi rebels in Yemen had declared their support for the attack on Saudi Arabia's oil plants. The Huthi had taken control of large areas of Yemen by 2014, including the capital Sanaa. Saudi Arabia is leading a military alliance that is fighting the Huthis in Yemen with air strikes, among other things. The Sunni kingdom sees the rebels as a close ally of its Shiite arch-rivals Iran. The Huthis regularly attack Saudi Arabia with drones and missiles
Francis Tawiah (Duisburg - Germany)