Should Heads Roll For The Free Senior High School Admission Chaos At The Independence Square?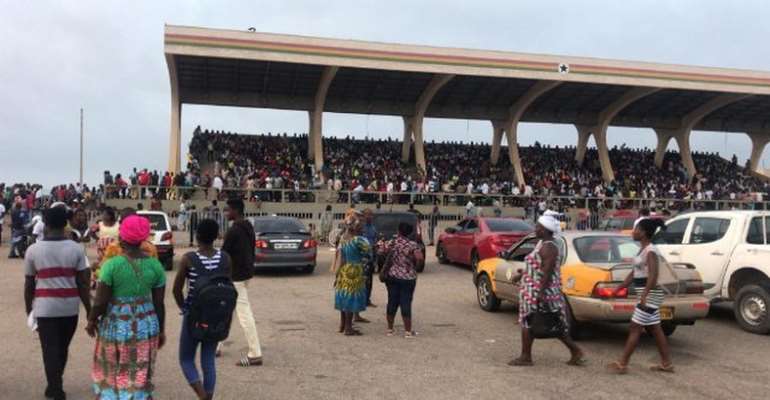 Ghanaians are such an interesting people. Why is a little local difficulty that has arisen in the implementation of a social initiative - designed to ensure that there is social mobility in our society and that our country finally has a relatively well-educated population - being made to look like a failed government policy, to the whole world? Incredible.
Is this not the age of free smartphone apps, one ventures to ask? Haaba. In the digital age, the chaotic scenes being played out at Independence Square should never have happened. Simply downloading a free smartphone app in the comfort of one's home ought to have taken care of that. That is why out of that free high school policy PR disaster, should come a number of hard-headed and positive outcomes. For sure.
To begin with, it must be obvious to the whole nation by now that the state-funded second cycle boarding school system, is simply no longer tenable. Clearly, the hapless taxpayers of the Republic of Ghana can no longer afford to continue funding what in reality is now a state-funded luxury for a privileged few. Any Ghanaian family that wants its wards to attend boarding schools must send them to fee-paying private second cycle schools.
With respect, it is foolish in the extreme, to continue using hard-to-collect-taxes paid by very poor people who struggle daily to survive, to fund a system whose main beneficiaries are the well-heeled and well-connected "protocol" offspring, of our vampire-élites.
The time has now come for our country to abolish an elitist educational system that is an egregious aberration in the digital era. All state-funded senior boarding high schools must be transformed into day schools. Period. No ifs and buts about that. No. Not now. Haaba.
The question we must ponder over is: Why should the children of poor families have to travel from homes in Accra's Maamobi suburb, to Kumasi to attend Prempeh College, when it means their financially-challenged parents having to rent rooms for them, just to enable them attend that posh school as day students - whiles wealthy kids whose parents live in huge mansions in the Kumasi suburb of Ridge with 6-luxury-vehicle-garages, are able to board at the Osei Tutu House dormitory block, because they were lucky to get into Prempeh College as part of a secret protocol quota list? Is that fair?
Furthermore, why have we still not come to terms with the brutal, reality-on-the-ground fact that the free senior high school initiative can only, and must only, benefit the children of Ghanaian citizens whose taxes fund it - not sodden free-loading foreigners, some of them probably here illegally?
That elephant in the room must be sent to the bush pronto. No Ghana Revenue Authority (GRA) tax identification numbers (TIN) no free senior boarding high schools for the wards of parents. Will that not widen the tax net painlessly - and enable the money saved to be used to build new senior day high schools and transform all Ghana's day senior high schools into world-class second cycle educational institutions?
Finally, senior civil servants only have their well-paid jobs-with-mouth-watering-allowances-and-perks, because they are employed to help ensure the successful implementation of government policies. The chaos at the Independence Square must be laid firmly at the door of the senior civil servants in the ministry of education who have failed Mother Ghana so miserably. Heads in that critical ministry must roll for this outrage. Enough is enough. Haaba.