The Asante Kingdom And The King Of Asante: A Fair Caution To The NDC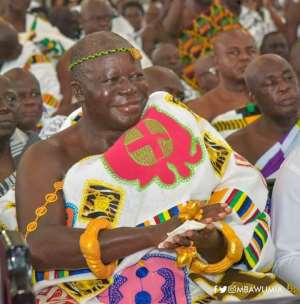 In the history of Ghana, there's never been any independent nation aside the Asante nation, hitherto known as Asanteman or the Asante Kingdom/Empire.
Before the Dutch, Danes, Portuguese, British or any other colonial master could arrive in Ghana, the Asante Kingdom had already been fully and firmly established with a sovereign traditional government. This is a historical fact, and any student of books or history would attest to this fact. In the Asante Kingdom was a King who had the sovereign and independent powers and functions to administer his nation.
Historians account that, the Asante nation was a solidly founded sovereign state tantamount to a modern day state (eg. Ghana, Britain, China). Undoubtedly, the natural, human and physical resources found in this state were enough evidence of/for its independence. The Asanteman is led by a monarch King called the "Otumfuor".
The Otumfour is a supreme overlord of his kingdom. Like a modern day state, the Otumfour of Asanteman is both a President and Prime Minister of the Asante state, surrounded and worshipped by his appointed Paramount (divisional) Chiefs known as Omanhene, Sub-divisional chiefs called Odikro.
These Paramount (divisional) and sub-paramount (sub-divisional) Chiefs rule respective areas of jurisdiction, carefully demarcated by the Asantehene in accordance with history of the occupants and their relationship with the Golden Stool (a unique spiritual stool made of pure gold and globally respected to be the most outstanding evidence of a highly distinguished monarch)
A careful study of the hierarchical structure of the Asante Kingdom with regard to Chieftaincy is apt knowledge on the hierarchical structure of every other modern day democratically independent State. This fact is undisputed. Within the sovereign state Ghana, the fact is equally undebatably undisputed that there is yet another sovereign state called the Asante state.
The Royal people of this Asante state, even strangers, regard the monarch as a King in the true sense of the word. Premised on this truth is one of the reasons why the United Nations (UN) could call on this globally distinguished King to deliver a message on culture and global peace.
His global acknowledgement is enough evidence of his majesty and authority. Therefore, any form of ridicule on his personality and kingdom would only be seen as gross insubordination from a misguided, indiscipline and unfortunate group of individuals.
Members of the National Democratic Congress, NDC, should be advised to desist from their disrespectful utterances against the King, His Royal Majesty Otumfour Osei Tutu II. On the return of His Royal Majesty Otumfour Osei Tutu II to Ghana, the National Democratic Congress (NDC) as a political party should be banned from operating in the Asante Kingdom until due diligence is done by the party in showing respect to the King. Until then also, the Asante people including Asantes who are NDC should treat the NDC as enemies of their Kingdom.
Reindolf Amankwa
Member, CTI-Middle Belt
[email protected]
0544728631